This article was updated on July 15 at noon in Hong Kong.
More than 100 lawyers and human rights defenders and their relatives have been detained or questioned as Chinese authorities carried out an unprecedented nationwide crackdown on human rights activists over the weekend.
As of July 14 at 7:30pm in Hong Kong, the total number of people who have been summoned, questioned, arrested, or detained had reached 159 across 24 cities and provinces, according to the China Human Rights Lawyers Concern Group. Of those, 10 are still detained by authorities, the whereabouts of 14 are unknown, and 135 have been released, said the Hong Kong-based advocacy group.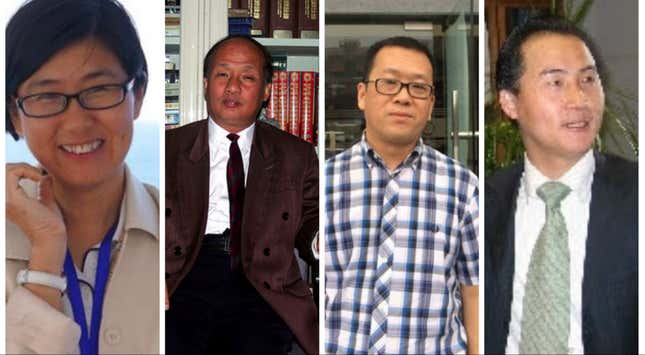 It is unclear what sparked the crackdown, and why it is being conducted now. But information about individual cases began to appear in state media over the weekend.
An article published on July 12 on People's Daily, the Communist Party's leading mouthpiece, called a Beijing-based law firm that specializes in human rights cases a "major criminal gang" that "organized, planned, and hyped more than 40 sensitive cases since July 2012, seriously disturbing social order." Four lawyers from the firm, Beijing Fengrui, as well as an assistant and a lawyer's husband, have been "criminally detained" for "seriously violating the law," the article said without specifying any charges.
Zhou Shifeng, director of Beijing Fengrui, represented Zhang Miao, the Chinese news assistant who had been detained for nine months after she helped cover the Hong Kong democracy protests for a German publication. Zhou was kidnapped and detained last Friday, after Zhang was freed without charge on Tuesday, according to human rights website Weiquanwang (link in Chinese).
Beijing Fengrui also involved in the case of a man from Qing'an county, Northeastern Heilongjiang province, who was shot dead by a policeman after he attacked the police with a baton. People's Daily's said  "these lawyers publicly challenged the court … and mobilized troublemakers to rally petitioners … outside the court."
According to a police notice revealed on July 11 by overseas political news website Boxun, Guangzhou-based lawyer Sui Muqing was put under a police detention at his residence for "incitement to subvert state power."
Since President Xi Jingping came to power, the ruling Communist Party has seriously tightened control over advocates for legal rights and free speech. Over 200 Chinese rights lawyers were detained last year, including Pu Zhiqing, who represents artist Ai Weiwei. But this past weekend's roundup was so wide-reaching and severe that some described it as a "purge."
Under a post on Sina Weibo by state broadcaster CCTV about lawyers from the Beijing firm making "confessions," citizens wrote:
"Is this rule of law? Don't make common people laugh their teeth out."

"Take down the lawyers quickly, then those disobedient journalists. After that, nobody or nothing will restrict you, and you will be able to dominate the political arena generations after generations. Come on."
China recently introduced a sweeping national security law, that will give the state the power to cut off the internet, which has aroused concern among the Chinese public and other countries. The U.S. Department of State said on its website on July 12 that it is "deeply concerned that the broad scope of the new National Security Law is being used as a legal facade to commit human rights abuses."