Getting your dinner to your door is now easier than ever, and thanks to the internet, almost no human interaction is required.
While phone orders dominated delivery only five years ago, the balance between meal orders placed over the phone versus those placed online have nearly switched, with internet orders on track to surpass phone orders any minute now.
In the year ended May 2010, approximately 1.39 billion phone delivery orders were placed in the US, according to market research firm NPD. By May 2015, that number had dropped to about 1.02 billion. In the same period, online orders more than doubled from approximately 403 million to nearly 904 million.
GrubHub launched its services in 2004, and has benefitted from both the early start and the change in ordering preferences. Seamless, which began offering consumers online ordering in 2005, merged with GrubHub in 2013, and the company now includes MenuPages and allmenus as well. But while GrubHub had a "first mover advantage," according to a report from Cowen and Company, startups are eating away at it—despite its massive network of more than 30,000 restaurants—because consumers are increasingly looking for higher quality food options.
Services like UberEATS, Caviar, Postmates, and DoorDash are providing delivery services for restaurants that don't have their own, upgrading customers' dinner choices from the typical pizza, sushi and Chinese food to include more artisanal, freshly prepared, and lovingly packed meal options. These companies handled orders totaling $400 million in 2014, says Cowen and Company, and that's expected to jump to $1.6 billion in 2016. GrubHub, meanwhile, is expected to grow its $1.5 billion in 2014 orders to $2.6 billion in 2016. GrubHub is still ahead in volume, but is lagging in terms of growth.
These companies use a number of business models. For example, GrubHub and Seamless take a commission on each order, while others charge a fee to customers.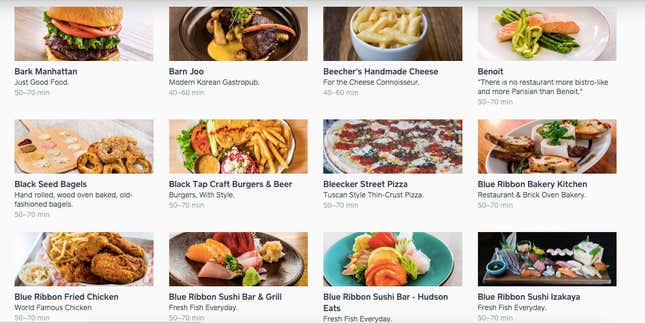 Although Taco Bell (through DoorDash), Chipotle and McDonald's (both through Postmates), are now offering delivery in some cities through these startups, consumers aren't necessarily looking for the cheapest food when they order online. These services are taking seats at what was once GrubHub's table because they offer higher quality food, even if they offer fewer options, according to a report from Cowen.
Caviar, which is owned by Square, only has 189 restaurants in Manhattan compared to Seamless's nearly 3,800, but it specifically targets higher end restaurants. "In many cases," the report notes, "customers are showing a willingness to pay premiums in excess of 40% of food value in fees & tips in exchange for the convenience of having the best available food delivered."
That's great news for Caviar, the restaurants it services, and the customers who want high quality food in the comfort of their own homes—but it might also mean it's time for Seamless to consider slicing some of its 593 Manhattan pizzerias out of the pie.
GrubHub did not immediately respond to a request for comment.