Most people have the luxury of not having to think about the complex motor skills required to put on and tie their shoes in the morning. But for people with disabilities that impair their hands, including those with cerebral palsy or who have suffered strokes, that task can pose major challenges.
Nike's newest sneaker, the Zoom Soldier 8 Flyease, is designed with one specific purpose: to make that task easier. The company, which researched and tested the shoe for years, announced on July 13 that it will be available for sale this week.
While the sneaker is based on a series Nike created for the basketball player LeBron James, its zippered, wrap-around entry-and-closure system is a first for Nike, and the company attributes its existence in part to a Florida teen named Matthew Walzer.
Walzer, who was born prematurely and developed cerebral palsy, was about to enter his junior year in high school in the summer of 2012. He was thinking ahead to college, where he was concerned he wouldn't be able to live independently because he always needed someone else to tie his shoes. A fan of Nike, he decided to post an open letter online to Mark Parker, Nike's CEO.
My dream is to go to the college of my choice without having to worry about someone coming to tie my shoes everyday. I've worn Nike basketball shoes all my life. I can only wear this type of shoe because I need ankle support to walk. I am currently wearing the Lunar hyper gamer and LeBron Zoom Soldier 6's. At 16 years old, I am able to completely dress myself, but my parents still have to tie my shoes. As a teenager who is striving to become totally self-sufficient, I find this extremely frustrating, and at times, embarrassing.
The letter made the social media rounds and found its way to Parker. As it turned out, Nike had already been experimenting with an entry-and-closure system for athletes with disabilities, a project that began after Jeff Johnson, Nike's first-ever employee, had a stroke and lost use of the right side of his body. Tobie Hatfield, who was in charge of the project, got in touch with Walzer.
Hatfield is the younger brother of famed Nike designer Tinker Hatfield and an accomplished designer in his own right. He even played a key role in developing the running blades used by Oscar Pistorius and Sarah Reinertsen. He had been working on a sneaker design that would make it easier for people with limited use of their hands to put on for years.
"I started thinking about doors on a hinge," Hatfield says in a video Nike posted about the release. "When you open it, it's literally like a hinged door. Then you just close the door."
Nike delivered a custom sneaker to Walzer.
"I'll never forget that night, taking them out of the box and putting them on," he says in the video. "I just felt this wave of independence that I never got to experienced before."
But Hatfield didn't just want a one-off, and he used the opportunity to make a product that Nike could scale for mass production. He and Walzer collaborated on developing the sneaker for three years, sending samples back and forth to constantly refine the shoe.
The result is the Flyease, which features an innovative zipper closure that unwraps like an orange peel, while being easy to secure and offering the ankle support that athletes—of all abilities—need.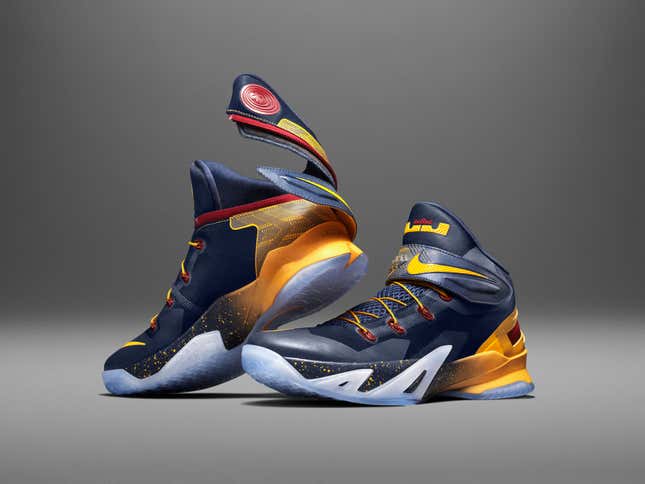 The design is smart, and the zipper system is attractive in a way that could make it appealing to customers beyond just those who need it. And while Nike isn't the first company trying to make the routine of dressing simpler for people with disabilities—MagnaReady, for instance, offers dress shirts with magnetic closures for exactly this reason—it's probably the biggest and most recognized brand to do so.
That's good, because more than 50 million Americans live with disabilities—to say nothing of the number worldwide—and many of them participate in athletic or fitness activities. It's an underserved market.
The new shoe resonates with a line from the company's original mission statement: In the words of Bill Bowerman, the company's co-founder and creator of its first sneakers: "If you have a body, you're an athlete."