China has a proud tradition of poetry written by politicians and other leaders. Some of that poetry is good, some bad. And some of it is inane.
An example of the latter gained national attention recently. Delving into the meaning of a healthcare brochure, it translates something like this (we've tried to capture the rhythm):
Ode to a consumer guide to international healthcare
A consumer guide we have to international healthcare.
A small brochure, it is so plain and clear.
It is so understandable for you to read,
so I write a poem to describe it.
All the staff are good in skills,
all the customers are well in mood.
Today we joyfully washed our feet—
tomorrow we vigorously climb a mountain.
The "poet" who wrote that is Xiong Aichun, the Communist Party's branch secretary and chairman for the Leiyang Federation of Literacy and Art Circles. Apparently he's rather sensitive about his work. After the poem was criticized in a local online forum, he stormed into its physical office and smashed a computer monitor.
After venting his rage, Xiong decided to write about that, too, in a note he left at the scene:
Xiong Aichun smashed the website's computer in a rage!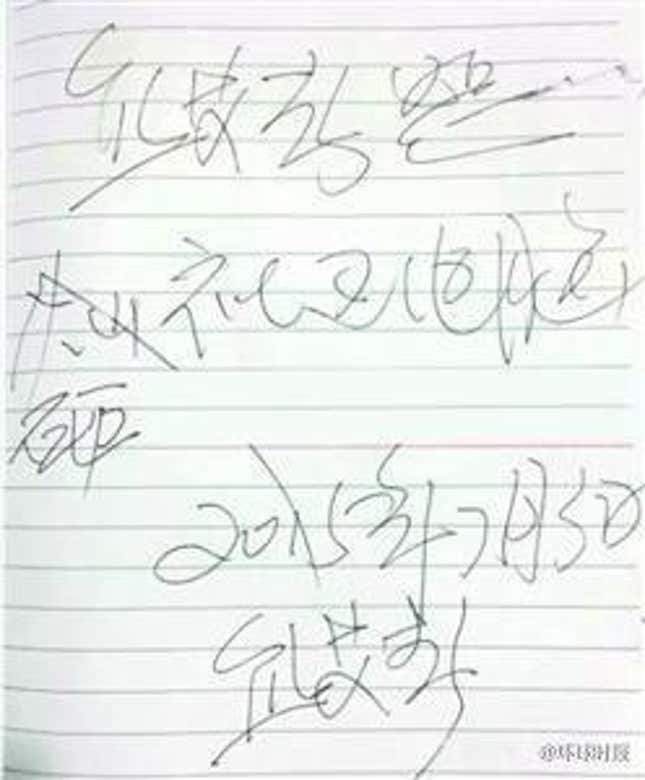 Witnesses at the scene told Chinese media (link in Chinese) that Xiong had to ask onlookers about how to write the Chinese character for "smash."
"Aren't you chairman of the literature federation?" asked a staff member. "How can you not know how to write 'smash'?"
"Are you scolding me as illiterate?" Xiong replied.
Xiong demanded 100,000 yuan ($16,100) from the forum as "compensation for emotional damage." He also feared the online comments had hurt his reputation.
On Wednesday the forum (Leiyang Shequ) posted a notice saying it was under maintenance because of "soaring traffic and a large number of malicious DDOS attacks."
Since the "incident" on July 3, Xiong has been taking time off and receiving treatment in a local hospital. A colleague alleged Xiong had a history of mental illness. Authorities declined requests for comments.
Chinese netizens have raised questions on the Twitter-like Sina Weibo. "First, how can he rise to a literature federation chairman position with such a low literacy?" asked one (link in Chinese). "Second, why isn't he subjected to the law after stirring up such big trouble?"
Among Communist Party officials, writing and sharing poetry is not uncommon. Ma Kai, now China's vice premier, created a poem series (link in Chinese) on fighting floods, storms, and earthquakes.
At a regional meeting of the National People's Congress in February, an official from the Shanxi province delivered his work report as a poem (link in Chinese), featuring five characters to a line for 6,000 characters. (State media criticized it.)
In 2007, China's then-premier Wen Jiaobao published a poem in the People's Daily newspaper entitled Look Up at the Starlit Sky, encouraging college students to be "people who care about the destiny of the world and the country."
That poem, unlike Xiong's, was actually good.