Which members of the global elite made the cut this year for the invitation-only World Economic Forum in Davos?
Quartz analyzed the confidential list of world leaders, CEOs, and big thinkers expected to attend, many of whom pay steep membership fees for the privilege. The "List of Participants" from January 7 was shared with us by a WEF Global Leader who asked to remain anonymous because delegates are instructed not to release the names of fellow attendees. (Update: On Monday, Jan. 21, WEF released a list of participants in an iPhone and iPad app and in a PDF on its website, though it can't easily be searched or sorted.)
You can explore who's on the list of 2,630 participants by sorting and searching the interactive graphic above, or by viewing this spreadsheet we put together.
CEOs
Of those expected, 680 participants have "chief executive" in their titles. Diageo CEO Paul S. Walsh and Yahoo CEO Marissa Mayer can expect to run into NYSE Euronext CEO Duncan Niederauer, and Citigroup CEO Michael Corbat.
Not all of the executives are at the helm of global multinationals. Perry Chen, the CEO and co-founder of the crowd funding website Kickstarter, Drew Houston of file backup and sharing service Dropbox, and Daniel Ek of on-demand music service Spotify, are expected to attend.
Bankers
From Wall Street, there are seven Citigroup employees participating. JPMorgan Chase, Goldman Sachs, and Deutsche Bank are each sending six and UBS, Morgan Stanley, Bank of America and HSBC will each have a delegation of five.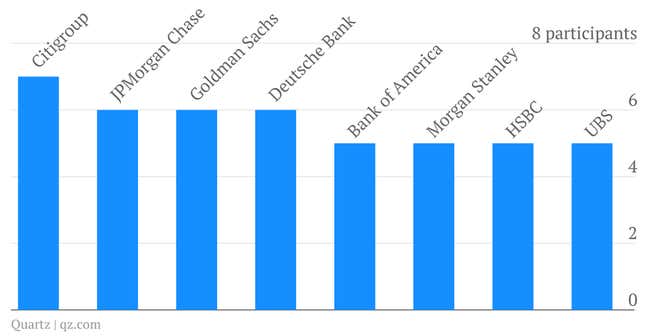 Regions
The preliminary Davos program (PDF) includes sessions titled "Global Leadership in Transition" (with simultaneous translation in English, Chinese, and Japanese), "De-risking Africa," and "Connecting Latin America." Nonetheless, only 4.9% of the participants are coming from China and Japan, 4.8% from Africa and only 3.1% from South America. Two-thirds of the participants come from North America or Europe. Less than 17% of the world's population lives in those two regions.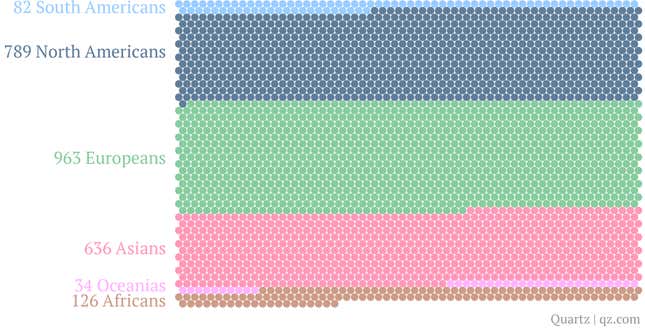 Politicians and Bureaucrats
Thirty-seven sitting prime ministers and presidents are expected this year, including Shimon Peres of Israel, Mario Monti of Italy, and Dmitry Medvedev of Russia.
From the US, at least three senators, five members of the House of Representatives, and the governors of Maryland, Delaware, and Colorado are expected to attend. The bureaucrats at the top of the Federal Trade Commission, Federal Communications Commission and the Food and Drug Administration are also listed. Most are participating as panelists or speakers during at least one session during the event, according to a copy of the schedule.
Out of office politicians will also be in attendance. Former US President Bill Clinton and Former UK Prime Ministers Gordon Brown and Tony Blair are listed as participants this year. All three are currently serving as UN representatives. Clinton is the UN Special Envoy to Haiti, Brown the Special Envoy for Global Education and Blair is the UN Middle East Quartet Representative. Eighty-nine-year-old Henry Kissenger, US Secretary of State under Presidents Nixon and Ford, is listed as well.
Fifteen more administrators of United Nations programs are listed as participants including Secretary General Ban Ki-moon and the executive directors of UNICEF, UNESCO, and the World Food Program.
In all there are more than 300 participants expected to attend who hold positions in governments around the world.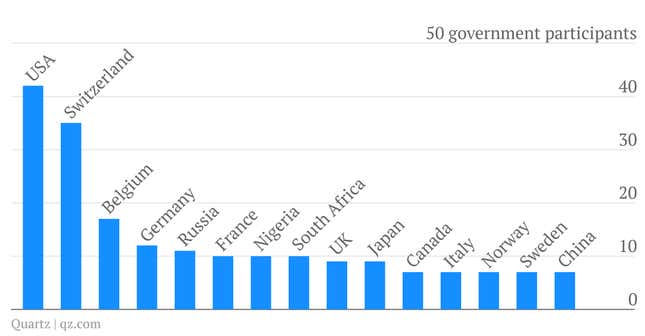 Academics
There are at least 14 Nobel Prize winners scheduled to attend and participate in sessions. An "Interactive Dinner Session" titled "The State of the World with Nobel Laureates" has 11 participating laureates on the agenda. Academia is represented by more than 100 professors, with economists Robert Shiller, Ken Rogoff, and Joseph Stiglitz included.