One of China's earliest reformers has died. Wan Li, 98, former vice premier, chairman of the country's lawmaking body and ally of leaders like ex-premier Zhao Ziyang, passed away in Beijing on July 15th, according to his son.
Wan was the last of the "eight immortals," a group of retired Communist Party officials who still controlled the government from behind the scenes throughout the 1980s and 1990s. He is known for dismantling agrarian communes, giving farmers control over their produce, and allowing them to reap profits. (A once popular phrase was, "If you want to eat rice, look for Wan Li.")
Wan is also known for his progressive beliefs on political reform and China's economic opening, which he believed had to go hand in hand.  While never spoke out for or against pro-democracy demonstrations that ended in the Tiananmen massacre in 1989, he gave a series of speeches extolling the necessity of a democratic decision-making process in the party and listening to the people.
One of those speeches, given in July, 1987 and later published in the People's Daily, circulated on Chinese social media today as Chinese bloggers remembered the man formerly known as the "reform charger."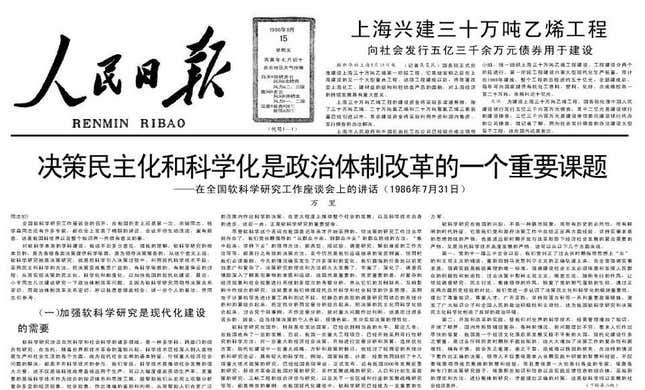 Here are some excerpts of that speech:
In a modern society, science and democracy are inseparable. Without democracy, we can not talk about the real development of science. Without science, there is no way to establish true democracy…Without democratization, we can not open our minds and words; we can not respect knowledge, respect talent, respect the creative wisdom of people, or respect experience, so there will be no science.

Leaders should respect people's democratic rights to fully express their views. They should not be afraid of hearing different opinions or even words against them.

We should welcome advice, stop silencing the public, and implement freedom of speech as granted by the constitution. As long as the leadership is correct, the administration is logical, people are harmonious, and businesses are prosperous, we will never fall from power because of harsh words or those who have ulterior motives.

Chairman Mao once talked about the story of Farewell My Concubine. He said, 'Let people speak, the sky won't fall. If you don't let people speak, some day you will have to say goodbye to your concubine.' There is meanings behind his words. But it's easier said than done.
When Wan stepped down from the party and the government at the age of 77, he helped end the practice of top Chinese officials serving life-long tenures. He penned a short poem in homage to retirement and old age:
Do not worry about retirement

Bridge plus tennis

Many friends
The country prospers and the people are at peace,

Happy, leisurely old age.