Bazaars with sticky rice-flour cake, fried chicken with rice, and sugary drinks in electric colors. It's the end of Ramadan in Malaysia, a time of fasting and reflection, but also a time when street vendors across Kuala Lumpur set up irresistible makeshift food courts, filled with indulgent holy-month treats.
Malaysian Muslims have had to wait until dusk to partake of these "Ramadan bazaars."
During Ramadan, Uber offers free rides every evening—regardless of your faith—to make sure you get home on time. In a city where the car is the main means of transport, roads get quickly jammed. A nonbeliever can only imagine the anguish of being stuck in a car, with delicious-smelling foods wafting through the window, unable to eat until the evening iftar, or fast-breaking meal.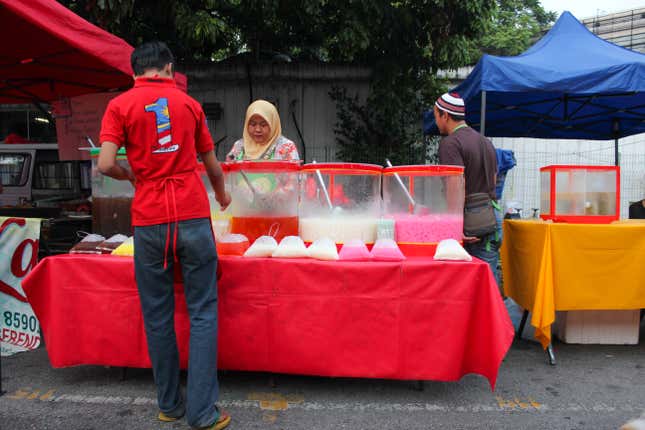 A secular state, Malaysia is ruled by the constitution, which recognizes freedom of religion. Islamic law applies exclusively to Malaysian Muslims: When asked to get a coffee, my Malay friend Azlan Adnan, 56, answered, "It has to be at night or else the religious police will arrest me. It's Ramadan, remember?"
But being singled out isn't all bad. Since 1971, Malaysia's ethnic Malays and indigenous groups (known as bumiputra, or "sons of the soil"), have also enjoyed preferential treatment from the government, which gives them priority for land contracts, university admissions, and civil service jobs.
Ethnic Malays make up about 50% of the population. Although they are the majority, their special treatment is designed to redress inequalities left over from the nation's British colonial legacy, which once favored Malaysia's Chinese and Indian communities. In 1970, the bumiputra controlled 2.4% of Malaysia's total corporate wealth; by 2004, they controlled roughly 19%.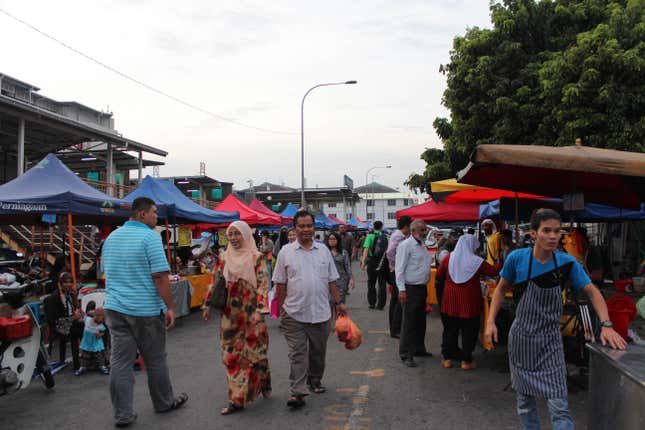 Some worry that the Malaysian government's slowly expanding their preferential treatment to limit the rights of non-Muslims. "They are starting in schools," city council member Satees Muniandy, of Seberang Perai, district tells Quartz. Muniandy is an ethnic Tamil and non-Muslim.
He might be right. To help Muslim students obey the law, most school canteens have closed during the holy month. In some instances, non-Muslim students have been urged to eat and drink in the bathrooms. Recently a teacher in the northern state of Kedah caused uproar by telling his non-Muslim students to drink their own urine if they were thirsty. The incident spread quickly on social media and ended with a Molotov cocktail attack on the school.
But others have used this holy month as a time to express solidarity. After a racially-charged altercation between a Chinese vendor and Malay customer in Kuala Lumpur went viral this month, Malaysian journalist Kuek Ser Kuang Keng started a Facebook campaign of national unity, urging his friends to share pictures of themselves with Malaysians of different races, under the hashtags #WeAreFamily and #Muhibbah ("unity" or "harmony" in Malay).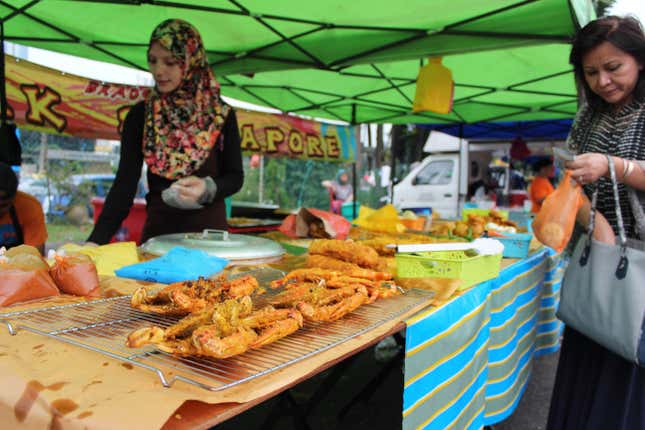 "The majority of Malaysians, regardless of race or religion, are peace-loving people," said Keng, 33, to Quartz. "We are brothers and sisters of each other, and we stand as Malaysians."
It is tradition for people of all sorts to be invited to big iftar celebrations, where everyone feasts together on local delicacies after sundown. Ramadan bazaars allow Malaysians to come together over special foods, and Malaysians of all religious stripes are proud to advise a newcomer on which Ramadan bazaar to visit, and what foods to try.
While Ramadan might highlight certain differences between fasting celebrants and everyone else, it is also a time of contemplation. "Ramadan is about empathy," says Adnan. "It's about putting yourself in the place of the others."
"Ramadan should be a month where Malaysians celebrate differences," agrees Muniandy.
The evening meal, particularly in the rich and myriad cuisines of Malaysia's many Ramadan bazaars, is a delicious starting point.