Fresh numbers out this morning show Mexico's jobless rate fell to its lowest level in over four years in December, declining to 4.5% (from 5.1% in November)—and trumping economists' expectations.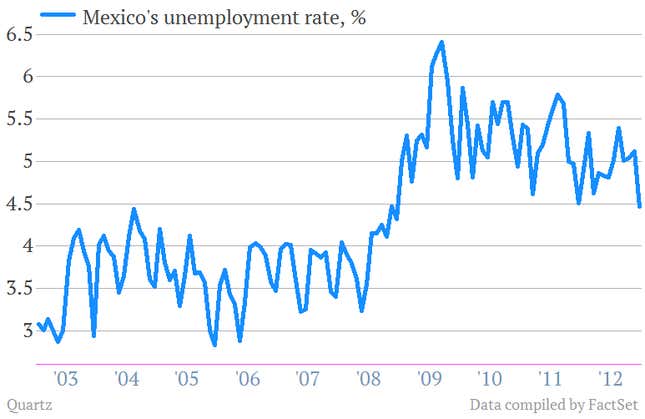 In fact, the Mexican economy has lately found itself in something of a sweet spot. Job growth keeps chugging along. Mexican stocks have recently etched record highs. Bond yields—the foundation of interest rates for private borrowers—are dropping, thanks in part to global investors, such as Bill Gross, becoming increasingly attracted to Mexican government debt. (Bond prices and yields move in opposite directions.) Until recently, inflation looked like a possible problem. But strength in the Mexican peso has helped cool things off there.
As far as risks go, that peso strength could be problematic if it gets ahead of itself. All else equal, a stronger peso means that Mexican manufactured goods would be more expensive for foreign buyers, making Mexico's export sector slightly less competitive. Industrial production and exports may be slowing a bit. But  because inflation seems tame, the central bank has some flexibility to cut interest rates if weakness in the export sector shows signs of infecting the rest of the economy.