Beware, Americans: Italian fashion is coming for your wallet.
At an event in New York yesterday (July 20), Carlo Calenda, Italy's vice minister of economic development, unveiled a year-long, $21.6-million plan to boost Italian exports to the US, including food but focusing largely on fashion.
Italy will be rolling out media campaigns, promotional events, and partnerships with major US retailers, including Saks Fifth Avenue and Nordstrom, in order to grab a greater share of the US consumer market, which for now anyway is the largest in the world.
"The US market is the one with the biggest potential," Maurizio Forte, trade commissioner and executive director for the US of the Italian Trade Commission, tells Quartz. "Not only is it the growth we're having now, but we're seeing that it will be quite consistent in the next years."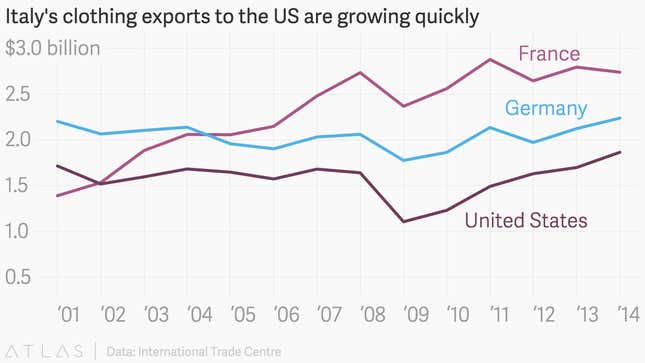 Forte points out that, while Italian labels are already established on the coasts, in cities such as New York and Miami on the East Coast and Los Angeles on West, they aren't as present elsewhere. "In central parts of the country, we have tremendous space for growth, for example in Texas, Colorado, and Montana, just to mention some according to research we have," he says.
Italy is also eager to reach the burgeoning group of young consumers in the US. Millennials in the country earned a combined $1.1 trillion in post-tax income in 2013, according to Euromonitor, and about one-third of Americans are under the age of 25. These shoppers are keenly interested in where and how the products they buy are made. That tag on clothing that says "Made in Italy" already adds prestige (even if a growing number of Italian products come from factories that are Chinese-owned and staffed), and Italy hopes to appeal to them with its tradition of craftsmanship and reputation for exceptional design.
The plan isn't just intended to increase sales of established Italian brands, though. The "most important goal," according to Forte, is introducing new labels to the US market.
"We have a lot of medium and small brands with excellent products that are suitable for the American market," he says, though he didn't name specific labels. "For them it's not easy to approach retailers by themselves, so what we're doing is a kind of outreach for them."
Those small-to-medium labels have a turnover of roughly $75 million to $110 million already, but need an extra bump to become global successes, Carlo Calenda told WWD (paywall). He offered Brunello Cuccinelli as one example of a brand whose success Italy wants to replicate. The label makes conservative but extremely high-end attire and leather goods carried by luxury retailers around the world.
Currently the US is one of the largest buyers of Italy's fashion exports, including clothes, footwear, leather goods, and jewelry, as well as textiles and leather hides. In 2014, Italy exported 5.2 billion euros ($5.6 billion) worth of fashion products to the US, an increase of 11% over the previous year.
Italian manufacturers want to capitalize on this uptick. It has been trying to boost its fashion industry for some time, and with the dollar particularly strong (paywall) against the euro these days, giving US consumers a little extra buying power, the time is right.