Time for some real talk. Gluten is delicious. Beer, pasta, pizza—people with celiac disease, an autoimmune disorder which prevents them from eating these things, are missing out on some of life's great gustatory pleasures.
Scientists at the University of Alberta may have found a solution.
For celiac sufferers, eating gluten, a protein found in wheat, rye and barley, triggers an immune response that damages the small intestine. University of Alberta scientists, however, have a developed a new supplement from the yolks of chicken eggs, that they say would prevent that reaction by hindering the absorption of gliadin, a component of gluten that is hard for celiacs to digest.
"This supplement binds with gluten in the stomach and help to neutralize it, therefore providing defence [sic] to the small intestine, limiting the damage gliadin causes," said Hoon Sunwoo, an associate professor in the Faculty of Pharmacy and Pharmaceutical Sciences, who worked on the project.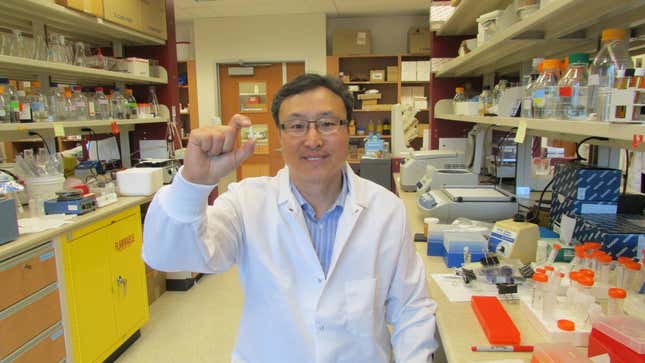 An efficacy trial of the supplement is scheduled to start within a year, and the treatment could be on sale to the public within three years. It is expected to be available over-the-counter, Sunwoo told Quartz. He and fellow researcher Jeong Sim, a retired professor from the Faculty of Agricultural, Life & Environmental Sciences, are working with IGY Immune Technologies, Life Sciences Inc. and TEC Edmonton to bring the product to the gluten-craving masses. The only negative side effects, Sunwoo says, are likely to be for people with egg allergies.
As the food blog Eater notes, there is no shortage of companies trying to help people with celiac disease. And unlike their non-gluten-digesting ancestors, today's celiacs are hardly being forced to go without carbs these days.
"Gluten-free" versions of nearly everything are now available. In the US, sales of typically wheat-containing gluten-free products went up 34% between 2010 and 2014, and have now reached more than $1 billion, according to the market research group Packaged Facts, which measured sales in salty snacks, crackers, pasta, bread, cold cereal, cookies, baking mixes, frozen bread/dough, and flour.
Even so, real pizza is always going to taste better than the gluten-free imitators, making this new supplement a potential game-changer for those poor souls that have been forced to go without it all these years.