China announced today that a multi-million dollar deep-sea base will be built off its eastern coast in 2013. The project, worth an estimated 495 million yuan (about $80 million), is said to be for the purpose of mining for rare metals and natural gas deposits in the ocean bed.
What officials did not mention is that the base is  just miles from the headquarters of China's North Sea Fleet, in the coastal city of Qingdao (aka Tsingtao, where the beer gets its name). Qingdao lets out into the Yellow Sea, an area that includes North and South Korea and Japan and poses what some analysts say is one of the world's worst security dilemmas. China and Japan have an ongoing territorial dispute over a set of islets while South Korea and North Korea, an ally of China's, are still technically at war.
"There's a lot of opportunities to build this sort of facility all along China's coast, but the fact that [China is] building it in the same city as the North Sea Fleet suggests there are military implications," says Abraham Denmark, vice president for political and security affairs at the National Bureau of Asia Research.
This map from the Pentagon's 2012 report on China's military capabilities lays out the North Fleet's capabilities.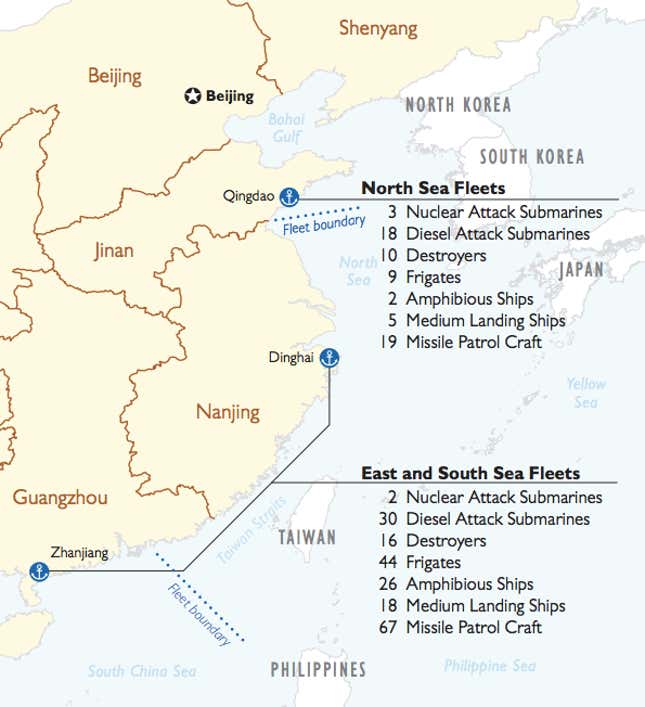 A deep-sea base could help map the ocean floor for China's submarine fleet, Denmark says. Authorities have said the base would serve as a support station for China's prized submersible, the Jiaolong (named after a mythical sea dragon) that descended 7,020 meters (about 23,000 feet) into the Pacific Ocean last year. The submersible, like a submarine but with shorter range, could also support China's submarine forces in case of rescue or repairs in case of an accident.
When exactly the base will be operational isn't certain. After announcing construction of the base would begin in 2011, local Chinese authorities delayed the project for two years, saying now that construction will begin in May of this year (to be operational by 2014).