Does Taylor Swift need to be sent away for re-education on core socialist principles?
The pop star recently announced she would launch a clothing and merchandise line just for her fans in China, in advance of her November tour of the country.  Most of the clothing touted in a promotional video is relatively inoffensive, save for one minor detail.
Several of the T-shirts prominently feature the date "1989"—the name of Swift's album and her tour. It's also a term that most Chinese use to discreetly reference the events on June 4, 1989, when the Chinese government fired tanks against protesters in Tiananmen Square.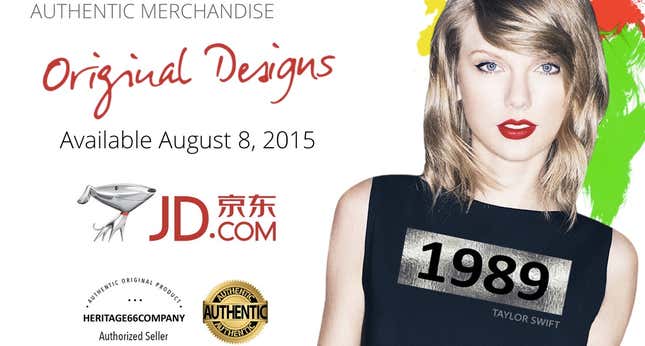 As a result, 1989 is more than just a date in China. The term is tracked on social media in China, as posts that feature the date often contain content the government considers subversive and aims to censor, as The Guardian points out.  Other terms that get flagged are "64," meaning June 4th, and "May 35th," which uses some magic math to beat around the calendar.
High-profile pop stars have a habit of making blunders in China. In 2008, when Bjork chanted "Tibet! Tibet!" a the end of a concert in Shanghai, she found little sympathy among her fans there. Last year, when Kenny G published a tweet signifying support for Hong Kong's pro-democracy demonstrations, the saxophonist found himself under fire from both Chinese fans and government figures. He later deleted the tweet, which earned him no respect among activists.
Of course, for many Chinese, 1989 is just a date—much like it is for Taylor Swift and her young fans. If a group of people were to parade through Tiananmen Square donning T-shirts emblazoned with "1989," they'd likely draw the attention of nearby police—unless, perhaps, they were on their way to a Taylor Swift concert.