Bicycling, on the whole, is healthy. Too much sun is not. With that in mind, the Bouclier visor—featured on a Kickstarter campaign launched Wednesday (July 22)—mounts to a bicycle helmet and provides full-face protection from potentially harmful rays.
Its creator Lydia Callaghan hopes to raise $25,000, which she tells Quartz will give her enough to fund the first round of manufacturing. An engineer by training with a background in software, Callaghan became an avid cyclist after relocating with her family from New York to California.
Just four years after the move, her father died of skin cancer, or melanoma. That fueled Callaghan's commitment to providing protection against the sun.
In her market research, Callaghan found that while no bicycle helmet provided enough protection, many good ones were available. So instead of designing a new helmet, she came up with the idea for an attachable visor. Today's iteration of the Bouclier—named after the French word for "shield"—attaches with the same industrial-strength tape that GoPro uses for its products.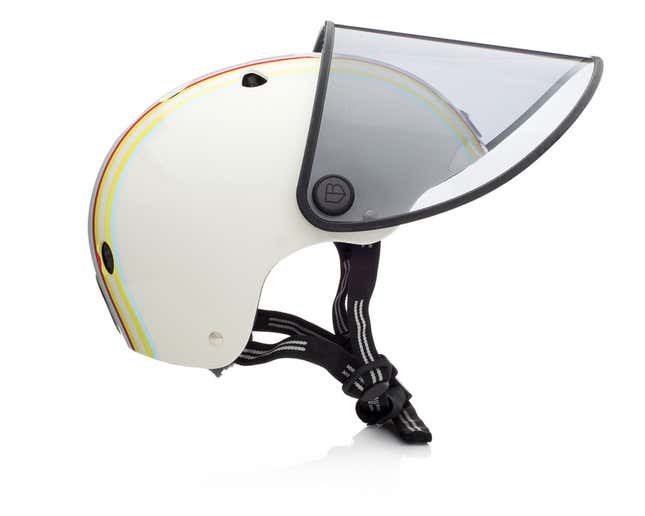 Callaghan researched consumer interest by attending trade shows, including Interbike (America's largest) and the Silicon Valley Bikes. She also spoke with retailers and cycling clubs, finding high levels of interest among commuters and people who lead and participate in touring rides.
Callaghan feels her background in software and engineering has equipped her to create a scalable, quality product with a "high bar for safety… I've been testing, iterating, and refining," she says. "And I am a mom, so I am passionate about safety and would not bring a product to market that hasn't been tested."
She adds that sun safety and skin cancer should be at the forefront of people's minds. In the US, reports the Centers for Disease Control and Prevention, melanoma is the most common form of cancer.
"This goes beyond my product, and it's something I really do feel passionate about," she says. "The need for sun protection is trending upwards."