There is a dark side to internet-connected cars.
While consumers anxiously await Apple's rumored foray into the car business and Google's driverless cars, two security researchers drew considerable attention (paywall) this week for demonstrating how easy it was to hack into a Jeep Cherokee and remotely take control of the vehicle—even while someone was driving.
"It's the latest in a series of revelations from the two hackers that have spooked the automotive industry and even helped to inspire legislation," according to Wired.
Turns out, there's a shocking number of ways hackers can find their way into a car.
Here's a blueprint outlining all the ways hackers can grab control of a car from a recent investor presentation given by Harman International Industries, which provides audio and infotainment systems in 80% of the world's luxury cars. Harman is also behind the connected car applications from Apple (called CarPlay) and Google.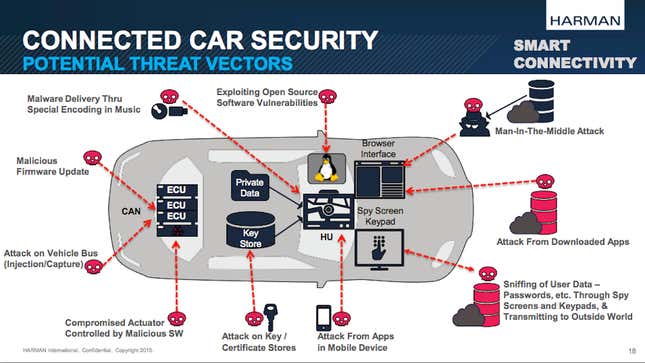 Harman also outlines in the presentation how it's ramping up its connected-car security with multiple layers on new intrusion protections.
For decades, cars didn't have issues with hackers because they weren't connected to the internet and provided no way to access their internal operating system. "As a result, the auto industry never worried about cyber security and someone taking control of the vehicle from outside," wrote Baird researcher David Leiker in a note to clients Wednesday (July 22).
Now, with connected cars wired for everything from voice recognition, Bluetooth, and GPS to eye-gaze tracking and driver monitoring, there are many more ways in and potential for terrifying outcomes.