It's been something of a magical time for Under Armour, and for the athletes it sponsors. And arguably, it's getting a lot harder to separate these two things.
On a call with analysts today (July 23) to discuss Under Armour's second-quarter results, CEO Kevin Plank spoke not only of the athletic-wear company's 29% revenue growth year over year, but about the incredible run of recent success for three of the biggest talents tied to the brand: NBA star Stephen Curry, celebrated ballet dancer Misty Copeland, and rising golf phenom Jordan Spieth.
Curry recently took home the title of league MVP and led his basketball team, the Golden State Warriors, to the NBA championship over LeBron James and the Cleveland Cavaliers. Copeland just became the first black principal ballerina at the prestigious American Ballet Theatre. And Spieth won The Masters in April, setting several records in the process.
No other sportswear company, including Nike and Adidas, can match that streak right now.
All the eyes those athletes attract translate to a boost for Under Armour's still-rising profile—especially in the case of Curry, whose signature basketball shoe for Under Armour continues selling well even if in relatively small numbers compared with Nike's sales. Plank noted on the earnings call that traffic to the basketball section of Under Armour's website was up more than 300% last quarter, and the company added more Instagram followers during the NBA finals than in all of 2014. Notably, Curry also recently overtook James for the most popular jersey in the NBA.
All three are underdogs to some extent as well. Curry was famously overlooked by college recruiters, and then overlooked by Nike, which sponsors James. When Jordan Spieth won The Masters, he was just 21; only Tiger Woods, long sponsored by Nike, won that title at a younger age. Copeland, meanwhile, has captivated people with her story of overcoming poverty, as well as naysayers who doubted her ability to rise to the top of a prestigious company, in a field dominated by white dancers.
Those stories are a big part of the reason they're exciting to follow, and part of what makes them highly marketable. This Copeland commercial for Under Armour went viral when it was released:
It's no coincidence that Under Armour bills itself as the underdog to sportswear rivals Nike and Adidas. (If there's a break in the parallelism, it's with Under Armour's sponsorship of entrenched NFL star quarterback Tom Brady, the biggest outlier in the company's endorsement roster.)
Even with sustained growth, it will be years before Under Armour is anywhere close to Nike, let alone near unseating it. But it's working on it. Sales have grown by at least 20% year over year for 21 consecutive quarters.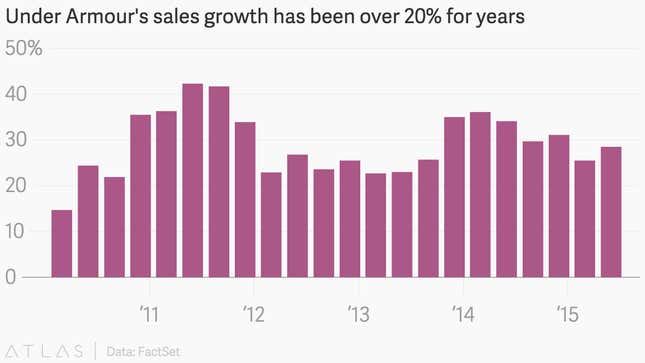 International sales, which make up 11% of Under Armour's revenue, are growing sharply. In the second quarter they were up 93%. The Baltimore-based company plans to open several stores overseas in the coming months, particularly in China. (It's sending Curry on a week-long tour there.) The company also reported that it's now profitable in Europe, where it just opened a new office, one of 17 outside the US.
"The mission here is to be the next great global brand and you're going to see us bite, crawl, and scratch and do everything we can to make that happen," Plank said on the call.
It's got a way to go, of course. But it's on the right track.