There is a massive square-city-block building in West Oakland called American Steel. It used to be a repair shop for huge cargo ships. But as the industry left Oakland, the giant, rusted hull of a building took on a new purpose, housing artists, tinkerers and makers who need space to build big projects. It has a crane that they can use to lift objects up to 10 tons, like old cars they're fixing up, huge steel statues, or in MegaBots' case, giant fighting robots.
MegaBots was founded by three engineers who didn't want to use their skills to go work for another large tech firm in the valley, or launch another startup with missing vowels in its name. "We kind of wanted to leave our boring day jobs and build something the world's never seen before," co-founder Matt Oehrlein told Quartz.
What they really wanted to do was live out their childhood fantasies, when they fell in love with video games like the MechWarrior series. So they built a robot that they could get into and fight another robot with. And they set themselves the goal of turning that into a business.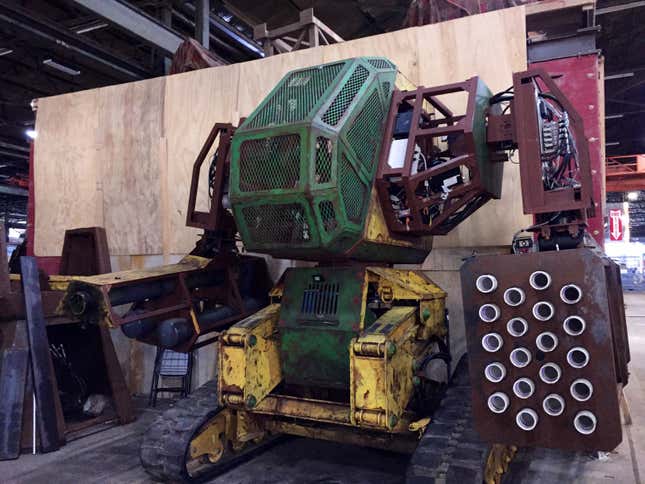 Engineers Gui Cavalcanti and Andrew Stroup originally met in 2013 on a short-lived Discovery Channel reality show about building things, hosted by an actor who was once in Harold & Kumar Go to White Castle. They soon hatched their plan to build a giant robot, and brought in their friend Oehrlein to build out the robot's electrical systems. Stroup left the company in January (he was replaced by Brinkley Warren) and the team moved to Oakland to build the first robot.
Once they had a working robot, they challenged Japan's Suidobashi Heavy Industries to a fight with its giant robot, Kuratas (Suidobashi said yes.) The fight will take place next year. The challenge is not just about having fun: It's an essential step in turning this into a real business. Oehrlein told Quartz the company's goal is to launch and subsequently host a robot fighting league. Like the mixed martial arts UFC fighting league, but for 15-foot-tall robots. He said MegaBots will not only build robots, but also show other teams how to build their own, meaning the threesome could one day become the Bernie Ecclestone of giant fighting robots, assuming that becomes a thing people want to watch.
If MegaBots' video challenging Japan's Kuratas to a fight is anything to go by, people will totally want to watch. To date, the YouTube video has been viewed over 5 million times. Rather like UFC or Formula 1, Oehrlein says this sport is going to be "inherently dangerous," which is probably part of the attraction for many. When asked why the team decided to have the robot piloted by a person, instead of controlled from a distance like the robots on BattleBots, Oehrlein said danger was never an issue, that the team wanted to be at the center of the action regardless: "The question for us was always, 'How many pilots?'"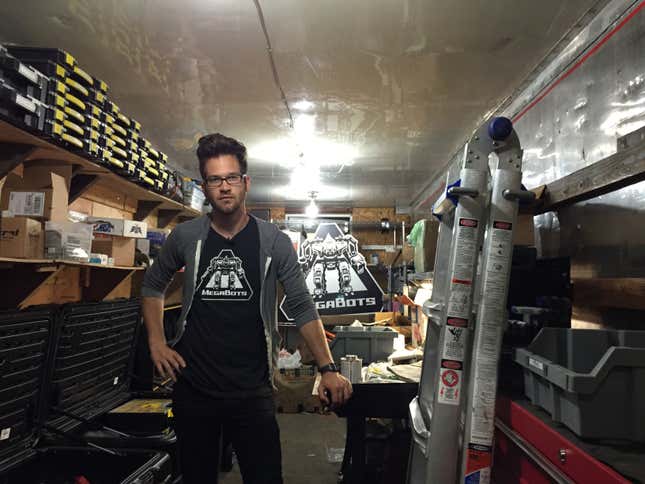 "What's more interesting to me is having a super interesting fight that people actually want to watch," Oehrlein said. He added that MegaBots are looking into media distribution for the fight, but couldn't comment on who they have been speaking with. "The dream is to get this out in front of as many people as possible."
The Mark II wasn't wearing much of its Oakland-inspired green-and-yellow armor when Quartz visited, as the team is currently working on upgrading the robot. Soon, they will launch a Kickstarter page to fund bigger weapons and the self-stabilizing robot legs they want to add to the Mark II, as opposed to the treads it currently sits on.
While beating Kuratas would bring Oehrlein some national pride, he said the main objective is getting people excited about the robots. "I'm going to consider [the fight] a success if people have an awesome time watching the fight, and are hungry for more," he said. "Because as a company, that's what we're selling: Giant robots as entertainment."
Oehrlein thinks show business is the best route for MegaBots' robot, for now. He doesn't think the military will be calling any time soon: The robots just aren't agile enough, or any stronger than what the military already has access to.
"A lot of people accuse us: 'You're going to end up building war machines for the military,'" he said. "The reality is, giant walking robots are pretty much worse than tanks in every possible way—but they look really cool."
There are other benefits to giant robots beyond their entertainment value. Oehrlein said he envisions innovations in robots' ability to walk (which they're working on before next year's fight), in safer human-robot interactions—which is certainly an issue—as well as advances in virtual-reality technology to watch the sport. (This also happens to be one of the issues holding back another potential new sport—FPV drone racing—from entering the mainstream.) "I can't see Google wanting to acquire us," Oehrlein said, "but maybe they would be interested in some of our technology."
The logistics of next year's fight haven't yet been worked out—Oehrlein suggested fighting Kuratas on an aircraft carrier in the middle of the Pacific Ocean, surrounded by drones filming the action—but the two sides have yet to settle on a location. Whether it'll be in one stadium, or a traveling show, is uncertain, but Oehrlein thinks the demand for the fights is there. "People are sick of watching robots on TV—they want to see it live," he said.
"That's the whole thing about MegaBots—it's real—these robots actually exist. They're not CGI, they're not special effects, they're real robots, fighting each other."
Oehrlein said that, like many, the team was inspired by artists and movies in their youth, and he hopes to inspire the next generation of makers. "We think that us bringing our own dreams to reality, those are going to be other children's dreams," Oehrlein said, "and they're going to build even bigger and badder robots, and do even more amazing things than we're doing."