The latest entry in China's booming $19 billion competitive gaming industry is hardware for the country's hundreds of millions of game players that monitors them just like professional runners, bikers, or team sports players.
Li Xiaofeng, aka Sky, is a former professional gamer in Blizzard's real-time strategy game Warcraft III, who won China the country's first championship at the World Cyber Games in 2005. Last week, he introduced his "Taidu mouse," which comes with a smart chip to measure players' heartbeat and gamers' actions per minute, at a launch event (link in Chinese) in Shanghai. "Taidu" literally means "Titanium degree," but sounds like "attitude" in Chinese.
The "e-sports mouse that knows Chinese gamers best" records users' data and beams it, via bluetooth, to a smartphone app that comes with the mouse. Li's plan is to eventually translated gamers' data into a so-called "professional index" that will evaluate which video game players are the fastest, and the coolest under pressure.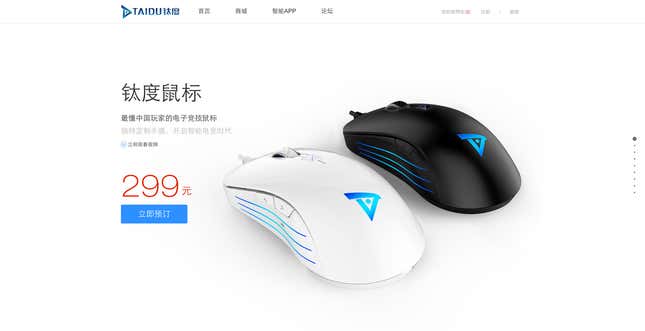 The mouse has a 32-bit ARM processor, which Taidu advertises as "far better" than MCU processors in regular mice. Right now it is on preorder at 299 yuan ($48.15), about the average price of gaming mice from brands like Razer and Logitech in China. Gaming mice are made to be more accurate and responsive than mice for work and other personal computer use.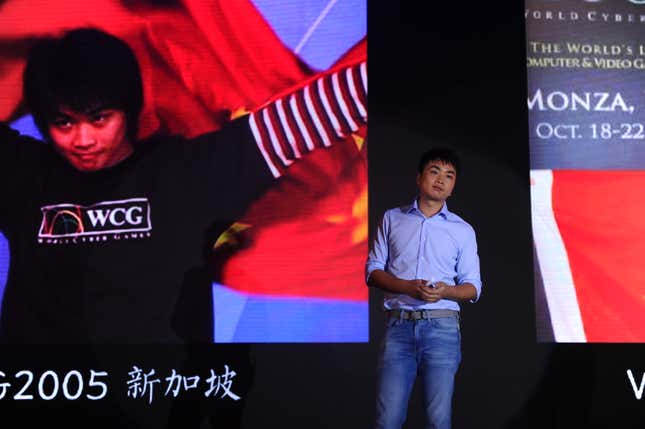 "Entrepreneurship has always been my dream." Li, 30, told state-run digital publication The Papers (link in Chinese) in an interview. "Just like [Chinese gymnast] Li Ning and [Michael] Jordan have created their own brands, I'd like to take the same path." Li added on his Twitter-like Sina Weibo (registration required) that "mice are the medium for people to dialogue with games."
A Taidu spokesman told Quartz on Monday the company has raised over $1.6 million in funding but wouldn't disclose how many pre-orders they have so far. He said the "Taidu mouse," which is the first of its kind in China, could be the first step in "the future of eSports," where players' athletic data are collected and analyzed to help them improve their performances—just like in traditional sports.
"Quantified gaming" is an idea that has already been floated by western startups, but Taidu has already raised more cash. Mionix labs launched a Kickstarter campaign in December 2014 to raise money for NAOS QG, a gaming mouse that tracks gamers' body reaction including heart rates, galvanic skin response and actions per minute, which will be displayed as a transparent overlay on the player's screen. Mionix claims NAOS OG is "the first mouse that provides deep insights into your gaming." So far the startup has raised over $100,000 on Kickstarter, but hasn't start producing the mouse, according to their latest update on July 21.
The Taidu spokesman told Quartz that they've noticed plans for gaming mice overseas, but they didn't borrow the idea from others.
eSports, or organized professional online gaming, was recognized as an official sport in China in 2009, and China's teams are winning titles in global tournaments of Multiple Online Battle Arena (MOBA) games like League of Legends and Defense of the Ancients. China's total game revenues reached $18.5 billion in 2014, up 37.7% year-on-year. Even retired players can earn over $800,000 a year streaming part-time.