Japanese summers are notoriously muggy. The 35 million people who work in Tokyo endure crippling humidity on their daily commutes to work that can top 70% coupled with high temperatures. Social media is filled with statements such as atsusugi (too hot) and asekaiteiru (I'm sweating).
Upon arrival at the office, however, few will feel the deep chill of too much air conditioning detailed this month in the New York Times. Tokyo office and retail buildings rarely put the air conditioner temperature below 28 °C (82 °F) during the summer. That's because the government began a policy it calls Cool Biz a decade ago, which asks offices to keep their thermostats at 28 °C or above, and allows employees to shun cultural norms by coming to the office in less formal attire.
In the hot summer months, Japanese workers can wear short sleeves, ditch ties, and forget their jackets when in the office. By adopting Cool Biz, companies trade formality for energy savings and environmental benefits. According to the most recent official estimate (link in Japanese), the program prevented 1.69 million tons of carbon dioxide emissions in 2010, and reduced emissions by 7.92 million tons in the previous five years.
It's not just about thermostats and short sleeves. Other Cool Biz-related energy-saving advice from the government includes:
Get staff to come into work earlier, when the temperature is lower.
Stop staff from doing overtime.
Allow workers to take longer holidays in the summer.
Use blinds to keep the sun out.
Add greenery.
Switch off electronics when they're not in use.
Use gel packs, which contain coolants and can be placed under seat cushions.
At home, the government also advises people to be more environmentally friendly. It suggests (link in Japanese) using blinds or curtains to keep direct sunlight out of rooms and keeping houseplants, which have a cooling effect. Such measures make it possible to use air conditioning for fewer hours. Cutting use by an hour every day saves 8 kg of carbon dioxide emissions a summer, and reduces monthly home electricity bills by around 1,170 yen ($9.46), according to the government.
In a nation known for its long meetings and excessive overtime, Cool Biz also has an effect on productivity. "The meeting rooms though seem to have their thermostats disconnected lately," says Mark Williams, an international business coordinator at a manufacturing equipment company in Tokyo. "With a big group they get pretty hot. This creates a good motivator to wind up meetings quickly, so it's not all bad."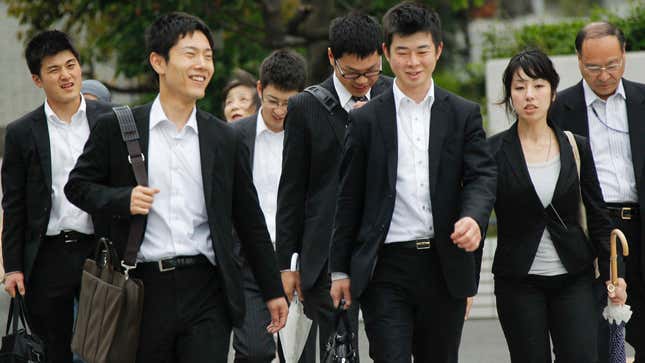 Williams says his company takes Cool Biz seriously. "At my company we have signs around the office in Japanese and English telling employees and guests [we have] a no tie, no jacket policy. The thermostat is set at 28 °C, but our office seems to stay around 26 °C. Most people use USB fans at their desks. Sales people and others that deal with customers are required to have a tie ready to go just in case [they have a meeting]. I have two in my briefcase."
Japanese office dress codes are normally very restrictive, and even Cool Biz has rules. Shorts and sandals tend to be off limits, and those that stretch the boundaries are noticed. The website Girl's Talk notes the following (link in Japanese) are no-nos: worn-out T-shirts, clothes that reveal parts of the body or undergarments, and bright-colored items such as aloha shirts.
Cool Biz has been embraced by men, but not women. A recent survey (link in Japanese) by the Suit Company found that more than half of women in their 20s were not aware of Cool Biz. A third of women wear the same clothes all year round, it found, and 43% said they felt Cool Biz was for men.
Williams agrees. He says it "seems to only apply to the men in the office since all the women are still required to wear their OL uniforms," using the Japanese short form for "office lady."
There is, however, more to Cool Biz that just what office workers wear. When asked about Cool Biz, Yu Sasamoto, who runs Twitter's Japan office, laughed. "Look at us," he said, in casual clothes. "We don't really have a policy." Cool Biz, he said, is perhaps better considered a nationwide campaign to get people saving energy than forced fashion.
Fashion companies, though, have embraced Cool Biz campaign, and it is even being exported outside Japan. Novak Djokavic won Wimbledon on July 12 in a Uniqlo shirt that is a part of the Japanese retailer's flagship product line for Cool Biz.