When Amira Marion and Judy Lee wanted to launch a web-shop for Nomada, their collection of clothing, accessories, and home wares, they had lots of options.
"We wanted to open a [brick-and-mortar] store, but it's impossible right now," said Marion, adding that she had already sold a good deal of vintage pieces on eBay, and was considering opening an outlet with online marketplace Etsy. The Brooklyn-based entrepreneurs could also have launched on Kickstarter, with a video of their sourcing journeys in Guatemala, or employed a digital template from Shopify or Squarespace—the latter of which Marion was already using to power e-commerce for her existing home textiles business, Archive New York.
Then, Marion received an email from Livia Moore, a community manager at Tictail, an e-commerce platform founded in Stockholm, Sweden, in 2012. Moore was a fan of Archive New York, and offered Tictail's e-commerce services for the company. What Marion saw instead was the opportunity to launch the side business that she and her longtime friend and collaborator had been ruminating.
https://instagram.com/p/16XHBHwkcI/
"We just jumped on it," said Marion, adding that Tictail sent a mobile studio and production team to shoot Nomada's products and workspace in Brooklyn. While that photo studio isn't a standard Tictail service, it does demonstrate the sort of hip, encouraging environment the company is striving to create for its users.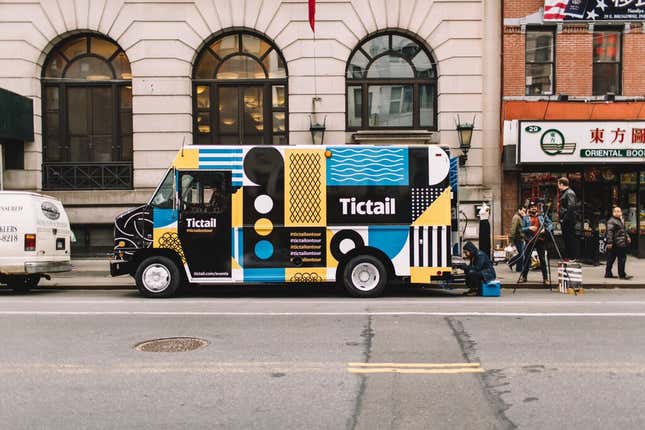 An aspiring Tictail merchant can start a store from their phone and become part of a glossy, global community of brands offering products such as Swedish licorice, ombre-dyed hijabs, and walnut nesting tables.
"We want to democratize selling," Tictail's co-founder and CEO Carl Waldekranz tells Quartz. Just as Tumblr made it simple for creative types to become publishers, Waldekranz wants Tictail to make them into merchants. Waldekranz says he hopes Tictail will reach "a new generation" of creative entrepreneurs by making it simple and fun to start stores.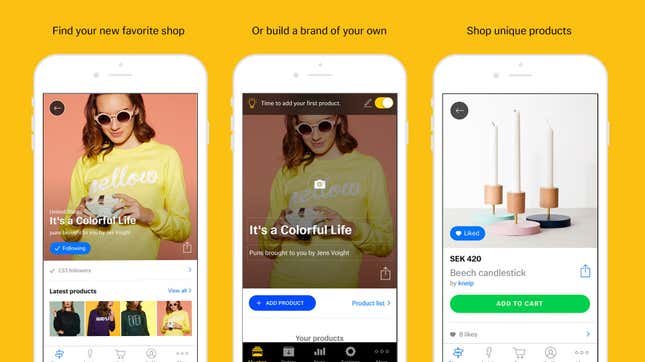 But it was the previous generation that inspired him. Waldekranz's mother, an artist in her 60s, became a test case for Tictail when she started to produce porcelain housewares decorated with nautical tattoo motifs. Waldekranz set out to give his mom the tools she would need to start selling her porcelain, and today it's available at her Tictail store, ByMutti.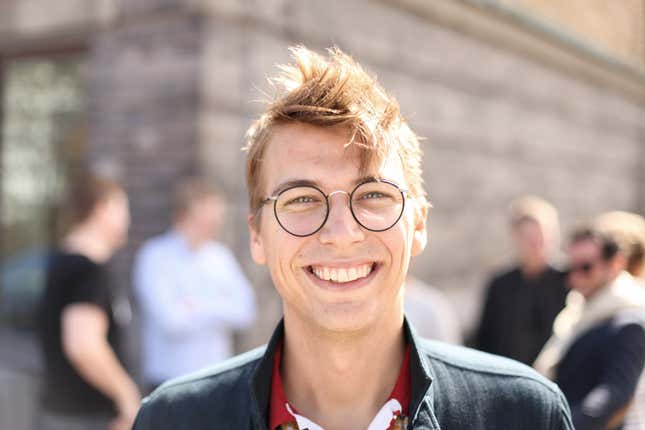 Waldekranz says more than 85,000 brands are now using the platform. Today,  July 29, he announced that the company has raised $22 million in series B funding from existing investors including Thrive Capital, which has also backed companies such as Instagram, Makerbot, and Warby Parker.
Creating and maintaining a basic Tictail store is free, with users paying extra for services such as custom domain names—Nomada's, for example, is ShopNomada.com—and discount codes. So while Tictail's marketplace and app provide a place for shoppers to discover new brands, the company also gives entrepreneurs the tools to stand on their own.
"I want [Tictail] to be like the operating system of your company," says Waldekranz.
"In general, you sell on Tictail if you want to make a brand, not just sell an item," says Marion, who says she has fulfilled a small handful of orders since Nomada's launch in May 2015. "We wanted to elevate our vintage [goods], creating a brand that people could come back to."
Marion says she has a new assortment to add to Nomada's store, just as soon as she has time.
"I should make a subscriber list," she says. "But I just haven't done that yet."