A generation ago, pig farming was one of the main occupations in East Wind village, a spot located in China's Jiangsu province. In Beishan, they sold sesame buns baked in clay ovens. Junpu village was slightly more modern, with its food processing work. Now East Wind has a bustling furniture industry, Beishan is home to at least one multi-million-dollar outdoor gear business, and one of Junpu's big successes is selling denim.
All three are known as "Taobao villages," rural communities where at least 10% of the population makes its living by selling products online—mostly on Taobao.com, the Alibaba-owned consumer-to-consumer marketplace. They're part of a seismic shift happening across the Asia-Pacific region, led by China in particular, where millions of new buyers and sellers in previously unconnected rural communities are coming online, and helping to fuel a surge in e-commerce.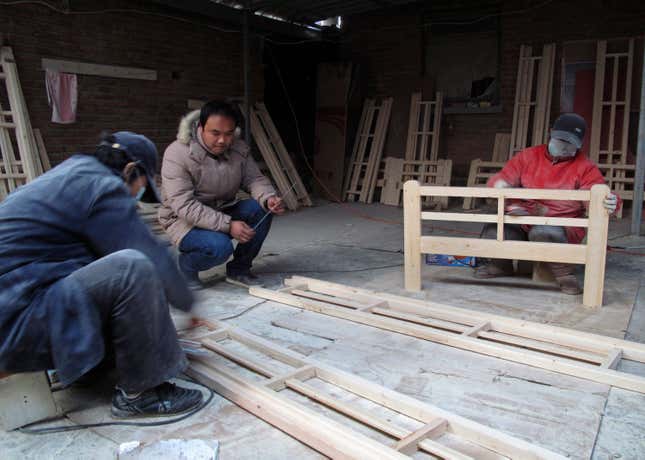 A report by Alibaba last year said there are now 211 Taobao villages, up from just 20 the year before. They're home to some 70,000 merchants, and Alibaba is actively investing in growing those numbers.
Alibaba, which estimates the rural market will be worth 460 billion yuan ($74 billion) in 2016, is just one of numerous companies trying to cash in. JD.com, another major e-commerce player in China, sent a team on a six-month tour of the country, showing locals how to buy products on its site.
China's rural population is so large that it will boost e-commerce numbers on a global scale as it comes online. According to a new report by research firm eMarketer, the country already has the world's biggest audience of digital buyers: 407.6 million people, followed by the US with 171.8 million. By 2019, it's expected to add another 139 million—especially from less urban places as internet access expands.
"For rural areas, when income starts to catch up, they're the ones that are going to go online to buy everything, because they don't have access," Haixia Wang, vice president of forecasting for research firm eMarketer, tells Quartz. "There are no malls, and if you want to get access to brands, online might be the first choice."
Though they don't have the same level of wealth as their urban counterparts, shoppers in China's less developed areas spend nearly as much on online purchases, and also spend a greater share of their disposable income, according to a 2013 report by research firm McKinsey. Their top categories for online shopping include apparel, tea, cosmetics, and food, according to Wang, and buying online is especially popular when local products don't have the highest quality or safety standards, as is often the case for makeup and baby products.
E-commerce in rural China still faces some big challenges, namely infrastructure. In less developed areas, poor roads and conditions can make it difficult for retailers to distribute and deliver packages, for instance. And while rural Chinese are willing to spend online, they're still relatively poor, which limits their purchasing power and the resources they can invest to build businesses.
Though e-commerce itself may be part of the solution. Alibaba estimates e-commerce created 280,000 job opportunities in rural China in 2014, and last July, the government picked 55 poor counties to get 20 million yuan each. The money was to help them develop their e-commerce industries in a bid to lower poverty.