Beritan, 30, likes to wear her hair in a bun with blue pins to hold her tight black curls. Lilav, 19, prefers an elaborate braid that starts from the top of her head. The much older Berfin opts for a softer, lower one. Every morning before going out on a mission the women help each other do their hair. They are soldiers—enlisted with the Kurdish YPJ, otherwise known as the Women's Defense Unit, and they are fighting against the Islamic State in Iraq and Syria.
"We are fighting for our land, to liberate people enslaved by Daesh [an Arabic acronym for Islamic State militants] and for gender equality," Beritan, second-in-command of a unit of at least 70 women in the outskirts of Sinjar, Iraq, told Quartz.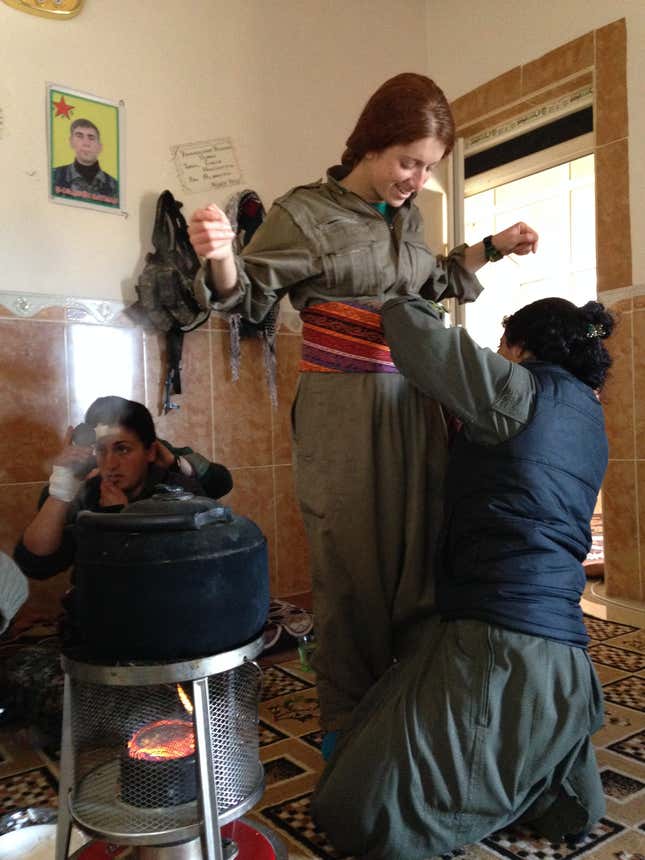 The ethnically Kurdish military force operating in Syria today was initially formed in 2011 to defend Rojava, a Kurdish-populated region, during Syria's civil war. The women's YPJ, along with its better-known half, the Kurdish men's YPG, or  the People's Defense Unit, has since advanced into nearby territories to rebuff ISIL's advances.
Today, the women's YPJ says it makes up about 40% of the total Kurdish military in the region, and is hierarchically independently from its male counterpart.
Once a woman joins the Kurdish guerrilla group, she must spend at least a month practicing military tactics and studying political theories from the Kurdish diaspora leader Abdullah Ocalan, who has been imprisoned in Turkey since 1999. Ocalan is famous for his emphasis on gender equality. He has written several books on the matter, including titles such as Killing the Male and Liberating life: Women's Revolution, and he advocates what he calls "the science of women."
Ocalan's science of women, also referred to as "jineology," is taught in Kurdish community centers throughout Turkey and Syria, where women can go to learn about female emancipation and self-defense. Jineology centers also assist female victims of domestic abuse.
"Kurdish society is very traditional regarding women's roles. They are still subordinate to men," YPG fighter Amara, 26, told Quartz. "Jineology centers help women to understand they do not have to accept everything."
"We are equal to men but we are also different," adds Beritan. "This is why we preserve our looks. Doing our hair or eyebrows are important practices too. We don't want to look like men."
To further demonstrate their femininity, many YPJ soldiers tie colorful scarves around their necks or waists. Each of them has their own style of dressing. Beyond paying attention to their looks, they take their fight very seriously. All of the female soldiers have lost friends in the battlefield, but none say they would go back to living like civilians.
"I am proud to be a soldier. I had two options: stay at home and wait for Daesh to come or protect my family and my people by joining the YPJ," 22-year-old soldier Arin told Quartz. "I chose the latter, and I am glad I did that."