Couples in voluminous A-line skirts, high-waisted pants with suspenders and liberally applied hair gel swing each other across the stage, Elvis's Blue Suede Shoes echoing throughout the square.
It feels as if Danny Zuko will roll up in his hot rod any minute, but this isn't a scene out of Grease. The dancers are in the otherwise sleepy German city of Wettenberg, whose half-timbered houses and cobblestone streets accommodated an estimated 70,000 visitors last weekend. They came for the "Golden Oldies" festival, which celebrates "the lifestyle and luxury" of the 1950s and 1960s, often thought of as a golden age that followed West Germany's wartime devastation.
Held on July 25 and 26, it's the one weekend of the year when Wettenberg's medieval castle is not the main attraction. Among the largest of its kind in Europe, the annual fete captures the zippy ambience of Germany's "Wirtschaftswunder"—the "economic miracle" that rekindled hope for many. After enduring years of price controls and Nazi-imposed rationing, new disposable income of the period suddenly allowed Germans to purchase cars, ovens, washing machines—modern status symbols that grew fashionable as West Germany became one of the richest countries in the world.
"People had the feeling things were improving; that they could achieve something," said Thomas Brunner, the mayor of Wettenberg and a key organizer of the event, told Quartz. "People found joy in life again."
The festival's nostalgia for this era of burgeoning wealth holds particular resonance in today's tense economic milieu. While Germans go retro to commemorate their own mid 20th century emergence from economic desolation, a "miracle" buoyed by debt cancellation, Greeks are standing in line for cash allowances, food, clothing and medicine.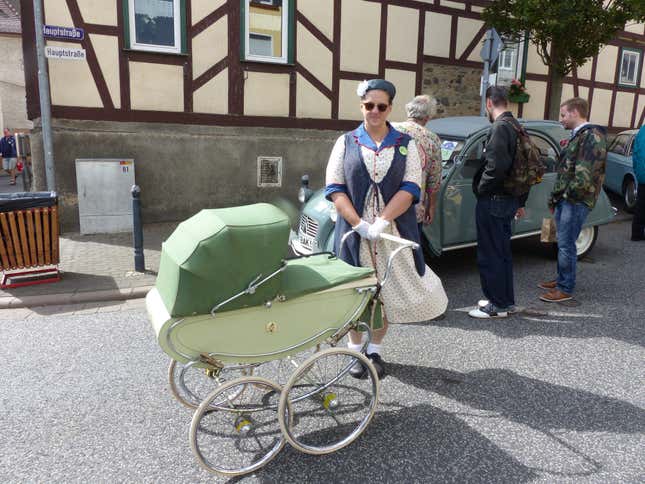 Starting in the late 1940s just following the end of World War II, the West German Wirtschaftswunder ran approximately until the early 1970s. "Germans like this time because things were looking up," Brunner said. "The people had done it—they had managed to leave behind the damage and backwards step of the war."
Morale certainly helped, but the international community's 1953 forgiveness of half of Germany's foreign debt following World War II underpinned the nation's revitalization.
This relief facilitated then-finance minister Ludwig Erhard's orchestration of the German economic recovery. Debt forgiveness meant Germans could turn their attention to building up the country, fueling the economy with both hard work and spending.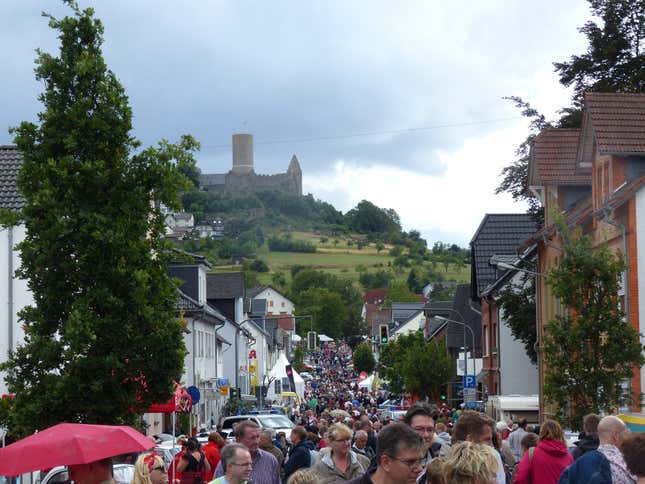 Wettenberg's retro flea market salutes the consumerist bent of the time with more than 100 stands selling all kinds of bric a brac from tulip lamps to cat-eye sunglasses. Upward of 1000 vintage cars paraded through the city over the weekend, as 50 throwback bands played the tunes that epitomize what many Germans like to think of as a simpler, more optimistic time.
The nostalgic tourists who descend on Wettenberg yearn for that feeling of a fresh start, Brunner said. "We simply don't have this spirit now, so people crave the feeling from before," he said. "The Germans still enjoy whining, even though they are probably doing among the best of the European states."
Boogie woogie dancer and festival attendee Gisela Burgemeister, 54, is not so sentimental. "People also think it must have been nice having a castle in the Middle Ages—but no, it wasn't," she said after showcasing her world-class dance skills on Wettenberg's main stage. "I think this is just a romanticized version of the 'good old days.'"
She and her 49-year-old husband Jörg Burgemeister were once the world's top boogie woogie dancers in their senior age group. They are now trying to work their way back up from number six.
Another visitor, 66-year-old Jute Fritz, is native to the Wettenberg area, and has attended all 26 festivals since the event's inception in 1989, months before the Berlin Wall fell and Germany reunified. Jute trains with a local dance troupe specializing in boogie woogie and swing, and this fair is one of the group's major performances.
"Every year I think, 'Oh this time my feet will hurt, or my legs,' she told Quartz, in a teal halter frock with black piping and a full petticoat. "But then when I'm here, it's just so great. I think I'll keep coming until I'm 100."
Beyond pining for the music, the dancing, the cars and the fashion of the age, Brunner said Germans would be wise to remember that this period also ushered in the formation of the Europe we know today. "God knows that we, as Germans, behaved terribly [during World War II], but other European neighbors were willing to work with us," he said.
That old spirit of cooperation, he noted, "is simply contrary to what is happening now, when we're having a hard time with the Greek crisis."