The Jerusalem gay rights parade was thrown into chaos today (July 30) when a man stabbed six marchers, leaving two of them in serious condition.
Police detained a ultra-Orthodox suspect named Yishai Shlissel—the same man who carried out a similar attack on the same parade 10 years ago. He was sentenced to 12 years in prison and was released just three weeks ago. In a screengrab from Israeli television, he is pictured today on the left and in 2005 on the right: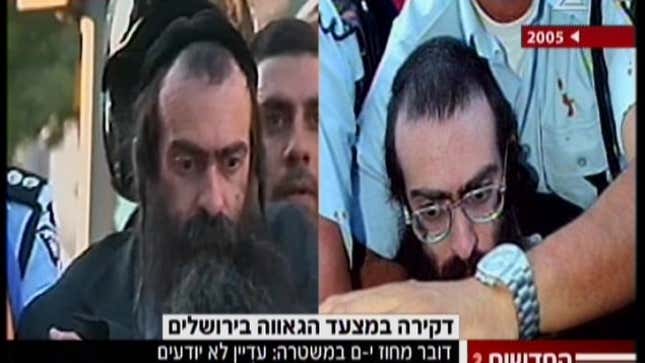 Ultra-Orthodox Jewish groups had turned out to protest the parade. A representative of the far-right organization Lehava compared homosexuality to "robbing a bank" in an interview with The Jerusalem Post. 
"The threat posed to the Jewish family doesn't just come from assimilation but also from undermining the sanctity of marriage. It cannot be that something that is declared in the Torah as an abomination will become a source of pride, and there is certainly no place for this in the heart of Jerusalem, the holy city," Lehava CEO Benzi Gopstein said.