INDONESIA'S MEDIA-SAVVY GRAFT-CHASER
Indonesia has a lot going for it, including an abundance of natural resources and a robust consumer sector. But corruption is endemic—and expensive. It cost the country some $238 million in 2011, according to Indonesia Corruption Watch (ICW).
This has been a long-standing problem for the country. But the Indonesian government is no longer sitting on its hands. Last year, President Susilo Yudhoyono launched a campaign to reduce graft. Much of the president's efforts so far have been focused on prevention, says ICW. However, Yudhoyono's pick of anti-corruption activist Abraham Samad to head the country's Corruption Eradication Commission is bearing fruit. Since his 2011 appointment, Samad has shown that he means business, targeting politicians from the president's own party and the leaders of Indonesia's national police, both of which were previously untouchable.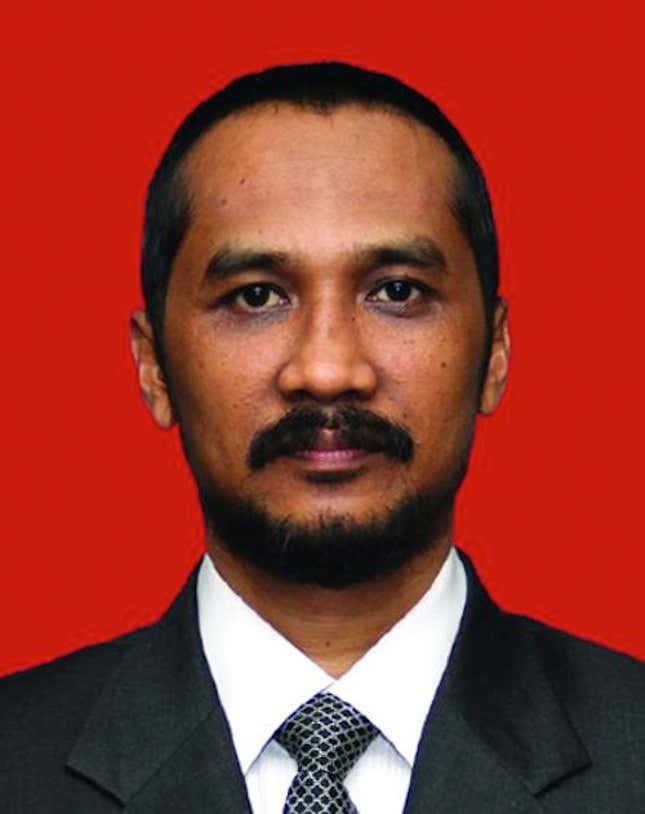 Samad has also brought the issue into the public eye by making a habit of appearing on television and in the press. This strategy has helped him to secure public support and shore up his political capital. When the police, angry at being targeted by an anti-corruption probe, threatened to recall investigators stationed with Samad's agency, public protests forced Yudhoyono to prevent the withdrawal. 
THE REFORMER OF AMERICAN CAPITALISM
American journalists may have mocked Jackie Chan when the Hong Kong-born action film star declared the US to be "the most corrupt" country "in the world." But if current trends continue, Americans agree may soon agree with him. Three in four of them now believe that corruption has increased over the last three years. However, unlike Indonesia, that dim view is aimed particularly at financial services: while 62% believe corruption is widespread across corporate America, four out of five say they don't trust banks.
Preet Bharara, the US Attorney for the Southern District of New York, has been proving at least some of this suspicion to be correct. Bharara has prosecuted 72 investors so far for insider trading, and filed suits related to mortgage-backed securities against leading financial institutions that include the likes of Bank of America, Citigroup and Deutsche Bank.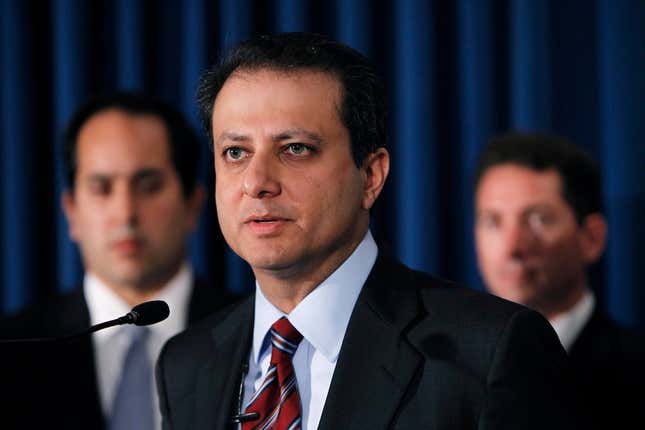 But Bharara says he goes after financial frauds because they broke the rules, and not because of scapegoating. "We want to hold accountable anyone who deserves to be punished for complicity in the worst economic crisis since the Great Depression," Bharara said in 2011. "Any case we make, however, will be because it is appropriate and deserved, not because there is overwhelming public pressure to do so."
One of Preet Bharara's closest friends, Viet Dinh, himself a former assistant US Attorney General, tells Quartz that Bharara is indeed no crusader. "I think Preet is less Elliot Spitzer and more Elliot Ness," he says, referring to the incorruptible Prohibition agent who brought down Al Capone and the fast-talking, litigious New York prosecutor whose zeal against Wall Street ultimately helped him win the New York governorship.
Dinh emphasizes that Bharara is motivated by a sense of fairness more so than anti-Wall Street animus. The prosecutor, he says, asks every lawyer interviewing to work under him how he feels about being responsible for another human being losing his liberty for long periods of time, turning turns down applicants who seem a little too gleeful. "Macho zealots need not apply," says Dinh.
BRAZIL'S FULL COURT-PRESS ON CORRUPTION
Corruption is, at its core, an institutional problem. And in Brazil, a major culprit is its congress, says Ronaldo Lemos, a Brazilian lawyer who has drafted legislation related to civil liberties. Since 23 parties fight over the 513 seats in the lower house, parties must trade favors to pass legislation and any stable majority is held together by bribes. As a result, votes "have become a currency," Lemos tells Quartz, adding that "ministers are no longer appointed on the basis of their expertise but because of political capital."
But the Supreme Court's handling of a 2005 incident may make politicians think twice before conducting shady deals. The "mensalão" scandal (so named for the monthly payments involved) broke in 2005, when a Brazilian congressman divulged that the ruling Workers' Party was paying members of congress each month to vote with the party. Lula da Silva, Brazil's president at the time, managed to insulate himself and win reelection in 2006, but several ministers and congressmen resigned.
Most Brazilians, familiar with the popular maxim, "the police arrests and the courts set free," probably assumed that that was the end of it. But quite unexpectedly, it wasn't. About two dozen former ministers and congressmen have been sentenced to jail since the trial began in October of last year. This is in part because Brazilians increasingly expect powerful individuals to be held accountable, says Lemos, but also, and more importantly, due to the growing clout of the country's judiciary.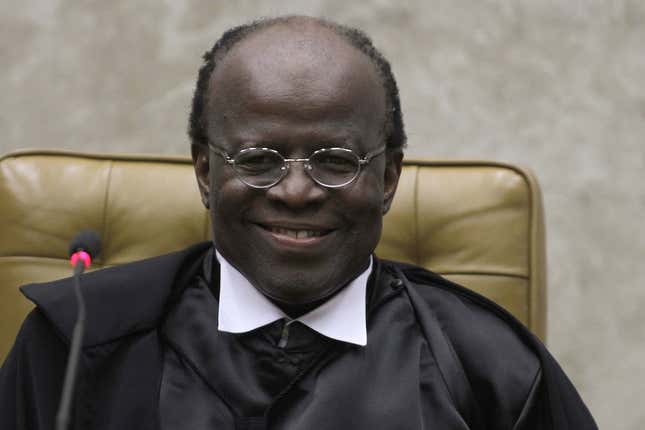 Lemos says the mensalão prosecutions succeeded in part because of a constitutional amendment passed a few years ago that altered the nature of the Supreme Court. Used in the past primarily as a court of appeals—and so jammed up with case traffic that it was functionally irrelevant—the court now has the power to create binding precedents for other courts around the country, and to reject cases not deemed worthy of its review. And by the looks of it, the court sees Brazil's political corruption to be plenty worthy.
FIGHTING NIGERIA'S WELL-OILED CORRUPTION MACHINE 
Since Nigeria gained independence in 1960, some $380-billion worth of oil revenue has disappeared from Nigeria's coffers, according to Nuhu Ribadu, who was a police officer before Nigerian president Goodluck Jonathan tapped Ribadu to head a task force on vanishing oil royalties. Ribadu has since set out on the trail of his country's missing money, arresting hundreds of senators, governors, bankers and even his former boss, the Nigerian chief of police, who was jailed for stealing £150 million.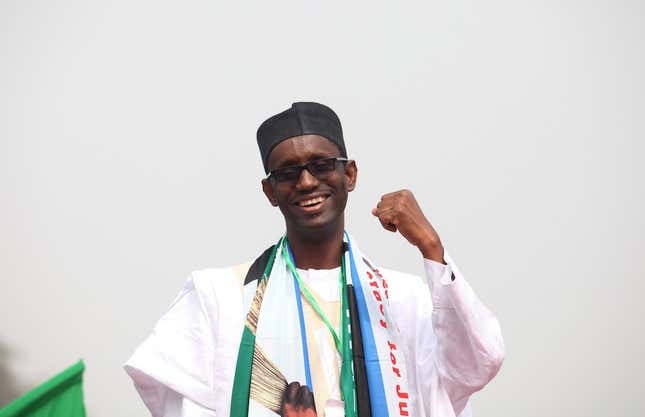 Rubadu presented his findings last November, detailing how funds had gone missing at every stage of the accounting process, and exposing how the awarding of extraction contracts formed the foundation of a sprawling patronage system.
Drama escalated from there, after a presidential aide who had been placed on the task force halfway through its investigation announced his opposition to the task force's recommendations because "some of the data used could not be independently verified." Taking a page from Samad's playbook, Ribadu then wept on national television, according to several Nigerian blogs.
Ribadu has changed the way the Nigerian people discuss corruption, says Jenik Radon, a Columbia law professor who knows Ribadu personally. However, Radon sees little hope for improvement of Nigeria's corruption problem. "I believe important developments happen because of catalysts, and Ribadu is one of them. But the only way to improve the system is by strengthening institutions," he tells Quartz. "As long as Nigeria doesn't have strong courts, it won't be a successful country."