On what is perhaps the ultimate summer Friday—the final weekday before August subsumes much of Europe in a monthlong holiday of Mediterranean sunshine, sea, and spritzes—former Greek finance minister Yanis Varoufakis has raised the bar for casual workwear everywhere.
Today Varoufakis appeared at a parliamentary meeting in Athens in a shirt printed with a dizzying multicolored pastiche of paisleys and kaleidoscopic dots. He paired it with blue jeans, cherry red earbuds, and an army green backpack, adding to the general air that he'd be heading straight to a ferry for the islands, just as soon the Greek bailout was buttoned up (unlike his top button).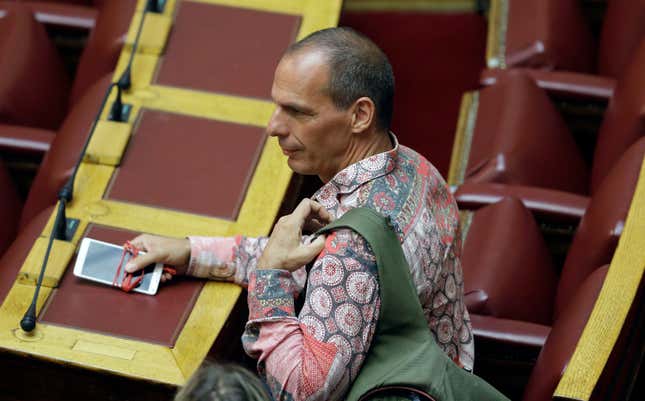 Prime Minister Alexis Tsipras was unable to ignore the shirt.
"You can blame him all you want for his comments, for his political plans, for his bad taste in shirts, for his holidays on the island of Aegina," Tsipras said of his former finance minister. "But you can't say that he is a crook, you can't say that he stole the money of the Greek people, you can't say that he had a secret plan to lead the country onto the rocks."
We can't confirm the origins of this particular garment, but if you feel inspired by the Varoufakis style—and how could you not—you might find something similarly fresh and flamboyant at your local vintage store, Etro, or Desigual.
Best of luck and happy Friday.