The modern executive needs a pressure release valve. Disruption persists, data mounts, and time vanishes. Business leaders across functions and industries face more expansive competitive and customer environments than ever before. While meeting increased demand to reach out and grab new opportunities, leaders must also look inward to grow.
For the C-suite, adapting quickly is a must: 81% of finance and HR functions have recently undergone a redesign, but only 30% and 60% of those functions live up to their forecasted benefits, respectively. Still, many continue to limp along.
Few question the importance of strategic and structural optimization—93% of business partners value IT planning (only 23% think it's being done effectively), two-thirds of marketing leaders have reworked their vision (only 13% saw expected results), and 77% of general counselors value strategy but see it pushed aside by the daily grind.
Leaders need better tools—and often, better justification—to step back and evaluate their organization's capacity for development. CEB Ignition™ Diagnostics offer something new by modeling a client's maturity in each function as well as how much each contributes to the overall business and its future.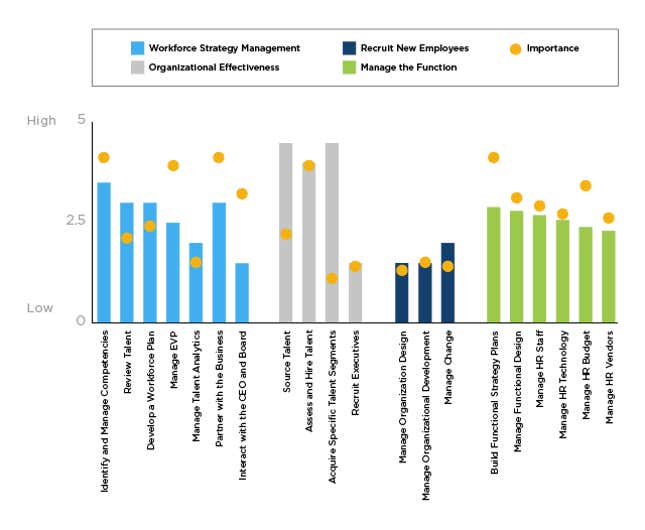 Crucially, these diagnostics also allow leaders to control for a key variable—their own natural human biases, amplified by the heat of the moment. You must "know your business," as 3M's senior VP of HR told CEB, and you must know yourself. Common pitfalls constantly threaten to cloud one's restructuring vision.
When the business services company Jemena undertook a strategic reboot after an ownership change, its HR leadership used CEB Ignition™ Diagnostics to identify specific performance priorities to cut through the transitional excitement and its tendencies toward frenetic idea-chasing. A strong framework enabled HR team members to address internal concerns while winning trust from other stakeholders, leading to collaborative successes and a more defined HR function.
From Microsoft to McDonald's, sound strategy and quantified objectives helped managers neutralize doubts about new programs while inspiring the confidence (and later, pride) that marks an initiative's impact. It's imperative to avoid the misunderstood opportunities, idea/capability mismatches, and weak follow-through that often sink fresh plans. Robust diagnostics seal the ship.
They also unify the crew—which is harder than ever to achieve as partners and workers spread across the globe. Diagnostic results must account for the needs of distributed teams as much (or perhaps more) than the singular goals of their leaders.
Businesses increasingly rely on CEB Ignition™ Diagnostics to wrangle such distances. A decentralized company in a financial pivot with cost constraints used its tools to hone in on key objectives, and a medical device company's CIO put a multi-year global transformation in place through CEB while committing to yearly re-evaluations that track progress.
That depressurizing valve, that cooling fan, those noise-canceling headphones—many seek such instruments of relief when problems pile up. With a clear picture of where functions stand and where they're headed, more lasting aid can be at hand.
To get a more in-depth perspective about how CEB Ignition™ Diagnostics distinguish themselves from other vendor's tools, download our white-paper below.
This article was produced on behalf of CEB by the Quartz marketing team and not by the Quartz editorial staff.