The favorite nutritional shake for time-crunched techies, Soylent, is getting even easier to drink.
The product, the work of a software engineer, got big on Kickstarter with Silicon Valley workers who wanted to chug down their meals like athletes and get back to work. The company's innovative spin—to make the drink as nutritious and cost-effective as possible—found its sweet spot with tech-savvy workaholics (paywall). But the company is hoping pre-mixing the powdered concoction will lure more customers.
Soylent fashions itself as a cheaper, more nutritious source of calories than solid food, but among meal-replacement drinks like Scmilk, Keto Chow, and Ensure, it's relatively expensive. Ensure, for instance, works out to $2.26 per 400 calories, compared to bottled Soylent's $2.42 per 400 calories. Soylent does benefit from a healthier mix of ingredients. Whereas a 400 calorie dose of Ensure powder is packed with more sugar (about 9 grams of it) and less protein (14.4 grams of it), Soylent (the original) contains 1.5 grams of sugar and 29 grams of protein per 400 calories.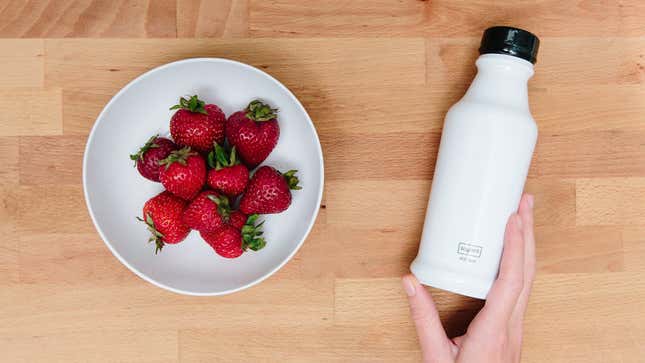 The formula in Soylent 2.0 will be slightly different from the powder. The bulk of the drink will still be derived from soy, but oat flour and sunflower oil will be replaced by algal oil and isomaltulose, a sugar found in honey— purportedly to make the drink more ecologically friendly. In a press release, Soylent said these ingredient changes will "reduce the ecological impact of food production by orders of magnitude, signifying a major step towards a future of abundance, a world where optimal nutrition is the new normal."
The pre-made version will also be more expensive, $0.42 more per 400 calories. But it still beats the price of pseudo-healthy fast food options. McDonalds Premium McWrap, for instance, cost $4.19, which is 109% more expensive than Soylent 1.0 and 72% more expensive than Soylent 2.0.
That won't, however, remedy a presumably insurmountable problem for Soylent: its bland taste. As one sommalier told the New York Times after a taste test: "If this was the only thing on earth to survive, then what's the point of living."