The days of sharing your Amazon Prime account with your entire extended family are coming to an end.
Amazon has imposed new limits on who you can share your Amazon Prime membership with, according to changes posted on its website that were noted by shoppers on deal forums.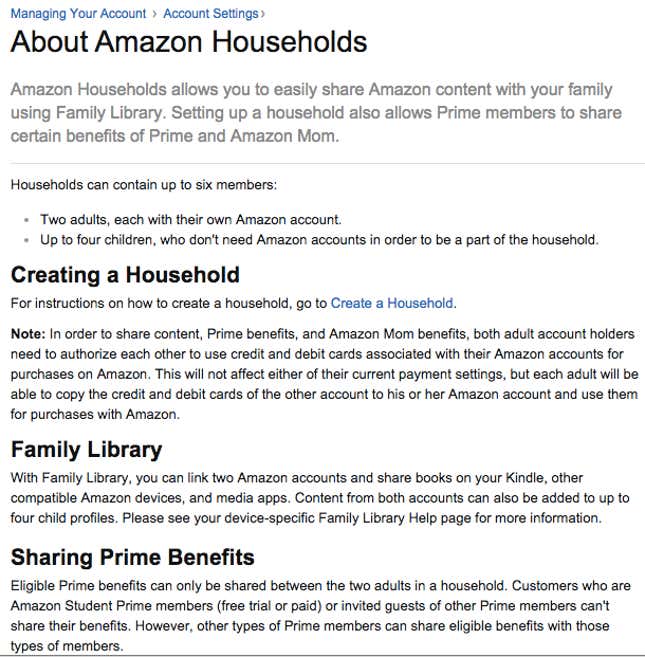 Now, Amazon Prime members can only share free two-day shipping and the other benefits that come with their $99 yearly membership with one other adult in their households. (The two adults also have to be willing to authorize the other person to make charges using their saved credit cards.) Previously, users were able to add up to four other people to the account.
Amazon didn't respond to a request for comment.
The move underscores how companies with membership models, like Amazon and Netflix, are growing up.
Previously, these upstarts didn't care so much about people sharing services and perks with their friends and family. After all, they relied on the network effects of a big customer base; the more people spreading the word, the better it was for the companies' growing brands. One 2013 study found that 33% of Netflix non-subscribers who were freeloading off other subscribers said they would be willing to pay for the service in the next six months.
But now, the companies are looking beyond growth numbers to consider, at least somewhat, profitability. And one of the first steps to making sure more money stays in your coffers is to not let it leak out the seams.
The other big reason Amazon is likely cracking down on sharing is the e-commerce giant's relentless push to sign up more Prime subscribers. Amazon doesn't release Prime membership numbers, but analysts from Consumer Intelligence Research Partners set it at nearly 45 million. 
Amazon members are clearly valuable, spending twice as much as non-members.
But membership has stalled recently.
An easy way to prop up that number is to convert the people already using the service into paying subscribers.