There has never been a better time to be a vegetarian. Companies like Beyond Meat and Impossible Foods are conjuring up meat-like products closer than ever to the real thing, giant restaurant chains like Wendy's are (finally!) testing veggie burgers, and the science supporting the meat-free lifestyle just keeps coming.
The latest good news for vegetarians: Pret A Manger, the UK-based coffee and sandwich shop, may open up meat-free stores, The Independent reported.
In a blog post on the company's site (NB you may have to click the link, set the site's location to UK, then try the link again), CEO Clive Schlee said that sales of vegetarian food were growing more than other segments. "The top selling SuperBowl in our latest salad launch was Beets, Squash & Feta, beating chicken, salmon and crayfish alternatives," he wrote. "This would have been unheard of five years ago."
Schlee discusses different reasons to choose vegetarian food over meat—animal welfare, health, global warming—but also the risks of opening a vegetarian-only version of Pret, among them alienating the stores' current customers. Plus, he notes, successful chains like Chipotle and Five Guys are meat-oriented, and his own chain's current bestseller is Chicken Caesar & Bacon baguette.
The answer may, he says, be to open a vegetarian version of the store. At the end of the post, he puts the question to a vote: Should Pret open these kinds of stores? Keep a veggie-only fridge? Or is it just fine the way it is now? He also tweeted the question.
At last count, the first two options were close but the veggie-only fridge was in the lead.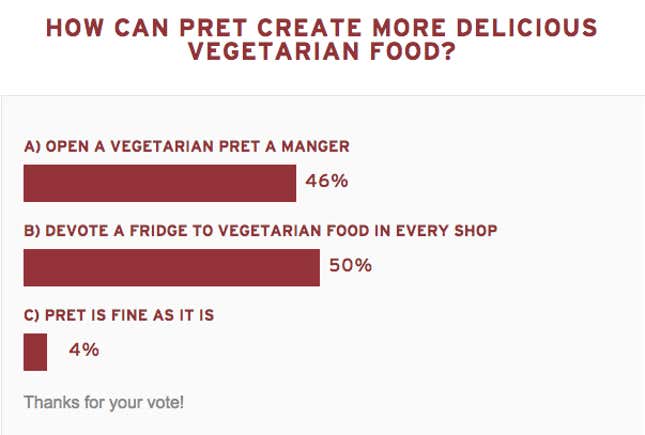 While vegetarians are still in the minority in the UK and US, sales of vegetarian products are on the rise globally. In 2013, 12% of new food and drink products worldwide had vegetarian claims, double the 6% in 2009, according to Mintel.
Pret has more than 350 stores around the world, in the US, UK, France, Shanghai and Hong Kong. In April, it reported a 14% gain in profits year-over-year and with £594 million (about $930 million) in sales. One of its most popular new products was vegetarian: macaroni and cheese.