A bomb blast in Turkey today (Aug. 4) damaged a pipeline that takes natural gas to Turkey from a BP-operated field in Azerbaijan. No one was reported injured, but the explosion has again undermined Washington's energy pipeline strategy to weaken Russia's hold on its neighbors.
The damaged pipeline (the gold line on the map below) is one of three US-backed pipelines—all of them starting in Baku—that together have provided Azerbaijan a chance to be economically and politically independent of Russia. The bomb went off in the Sarikamis district of northeastern Kars province, about 93 miles east of the pipeline's termination point in the Turkish city of Erzurum, Turkish officials said. Less than a month earlier, on July 13, Russia took possession of a 1-mile section of another of the lines—a BP-operated oil pipeline running from Baku to the Georgian city of Supsa, on the Black Sea (the red line on the map).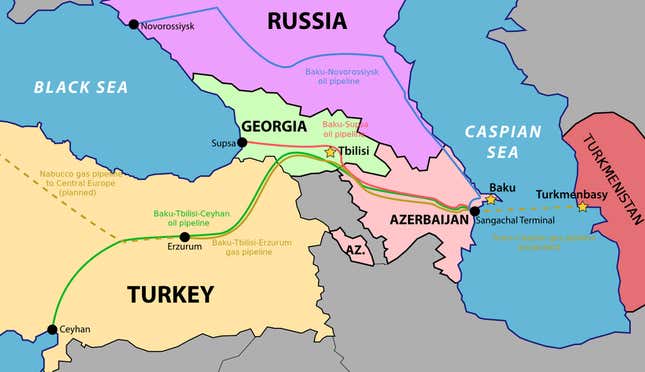 Turkish energy minister Taner Yildiz blamed today's attack on the Kurdistan Workers' Party (PKK), with which the government broke off negotiations on July 28 after two years of a remarkable thaw in relations. Turkish officials say they can fix the damage in a couple of days, but the blast demonstrates that the line is a recognized target in the Turkish-Kurdish conflict. Analysts, meanwhile, see the government's turnaround on the PKK as an attempt by president Tayyip Erdogan to force new elections and strengthen his political hold on the country.
BP has said little about either attack. A spokesman declined to comment about today's incident. As for the Baku-Supsa attack, the company has suggested only that it has long intended to abandon the captured part of the line and replace it with a new section further inside Georgia.
By failing to object to the Baku-Supsa grab, both the US and BP arguably tempt Russian president Vladimir Putin to escalate his challenge to the west in Georgia, whose territory hosts all three of the-US backed lines. (The third is a big oil pipeline from Baku to the Turkish port of Ceyhan, shown in green on the map above.)