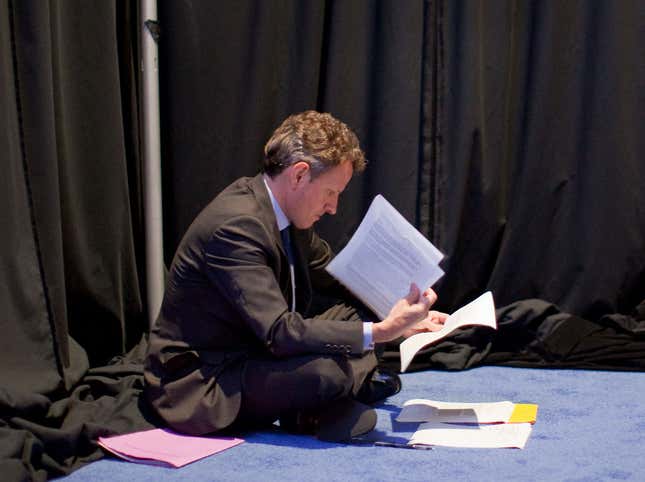 The investor-turned-financial-journalist Liaquat Ahamed has an exit interview with outgoing Treasury Secretary Tim Geithner today. It's worth reading to get the lay of the land from one of the most well-informed observers of the US economy. While his financial-crisis-fighting techniques are interesting for historical purposes—and it would be nice to see more critical introspection around Treasury's troubled handling of the housing markets—his comments on the fiscal situation are relevant today:
The federal government could and should provide more fiscal stimulus: "[T]he best economic strategy for the country would be to combine a set of very powerful near-term investments in infrastructure and elsewhere that would help support demand with long-term fiscal reforms that would restore sustainability. I think the limits we face right now are only political, not economic, not fiscal."
There's not too much deficit reduction left to accomplish: "The magnitude of additional deficit reduction – revenue increases or spending cuts – that you need to lock in in order to achieve fiscal sustainability is pretty modest. By most accounting, because of what we've already done on the spending side and tax side, we have to find another ¾ of 1 percent of GDP of policy measures."
What about the long-term costs of welfare spending? "[I]f you look out 20 years, 30 years, 40 years, we're still going to have to do some other things to change how people use healthcare in this country. We all agree with that. However I think that our view would be that you don't want the absence of agreement on the 50-year problem to get in the way of what would be a very good set of reforms for the country for the next 10 years."
Read the whole thing.