Where might a costume designer turn to outfit a comedy series set on the first day of sleepaway camp in 1981? One would think a vintage shop would be the only viable option. But luckily for Leslie Schilling, who did the costumes for Netflix's new series, Wet Hot American Summer: First Day of Camp (based off the cult 2001 comedy Wet Hot American Summer), there was another source.
Schilling told the New York Times that American Apparel, the embattled basics brand currently trying to engineer a turnaround in the face of falling sales and lawsuits from its founder and former CEO, Dov Charney, provided a good portion of the wardrobe. Most brands would probably be happy to be a primary resource for a Netflix series, but in this one, the dorkiness of the clothes is a running gag.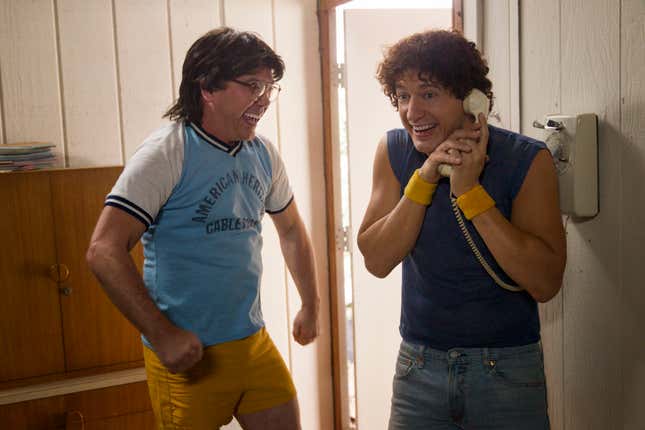 "American Apparel still sells dolphin shorts with colored piping, they have tube socks in any color you want, basic tees and baseball tees," she told the Times. "Because we needed a lot of multiples for stunts, and characters had to wear them for 30 days in a row, we couldn't rely on vintage."
The clothes are pretty hilarious throughout the series, though there's no way to know exactly which outfits owe their laughs to American Apparel. But if you imagine dolphin shorts, tube socks, and a baseball tee on one person, say an adult male, you could get the guy on the left here, played by A.D. Miles, head writer on Late Night with Jimmy Fallon.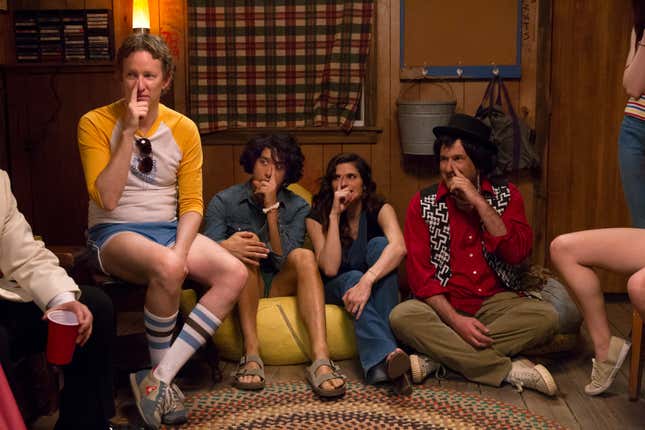 At its core, American Apparel is a basics brand, relying on items such as plain t-shirts and leggings for much of its sales. But a sizable selection of its clothes, and its entire brand image, radiates a vaguely retro vibe recalling something like California in the late 1970s and early 1980s.
The lure of that look seems to be waning, and it's probably not a great sign for the company that those clothes are being played as a literal joke, even if the look still has its fans. (Quartz has reached out to American Apparel for comment and will update this post with any response.)
Paula Schneider, the company's recently installed CEO, is on a mission to change the company's image, and she's aiming at a more mature, professional customer: The "classic woman," they call her internally.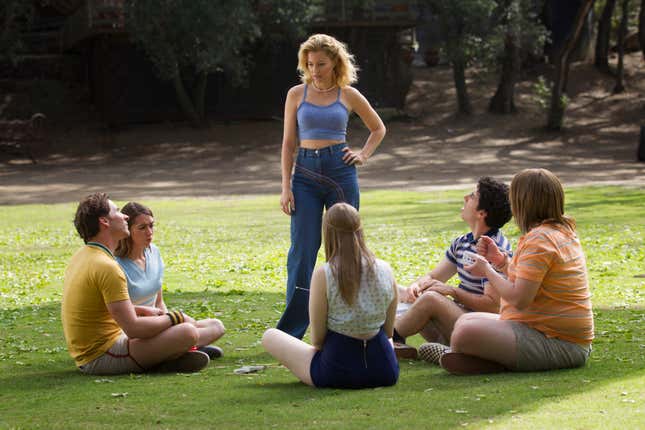 But for now, American Apparel still beckons costume designers in search of nerd chic and teeny-tiny shorts with colored piping.