THESSALONIKI, GREECE—"I prefer to find a job, but this is a dream right now in Greece," said Eva Vaveloua, as she rolled a cigarette in an outdoor cafe in this northern Greek city. She is 38 years old, with a PhD in chemical engineering. "And I don't want to leave my country. Life here is not easy anymore. It's ugly. The threat of fascism increases. But I love this place, I fight for this place, and I cannot just leave."
Vaveloua, who lives off of her father's pension in her family home, has donated all of her time to organizing and helping run the Social Solidarity Clinic in Thessaloniki, which serves city residents who don't have free healthcare— including immigrants and the unemployed, as well as their children. Today, the clinic has 90,000 patients and almost 300 volunteers.
In the years since the current Greek debt crisis began, questions remain about effectiveness of austerity. For the health sector, things have only gotten worse: the spending cuts imposed by Greece's creditors broke a healthcare system that was already poorly organized and mismanaged.
As people live on less money, private hospitals lose patients while public hospitals—free for those with healthcare—overflow. And then there are the 2.5 million people who, for the first time, have no options—the 2011 austerity measures cut health insurance for people who have been unemployed for more than a year. That's a quarter of the population.
Officially illegal
To help these people, a third option was born: free clinics like Vaveloua's, of which there are more than 40 around Greece. Nobody takes money, nobody gives money; they run off of private donations.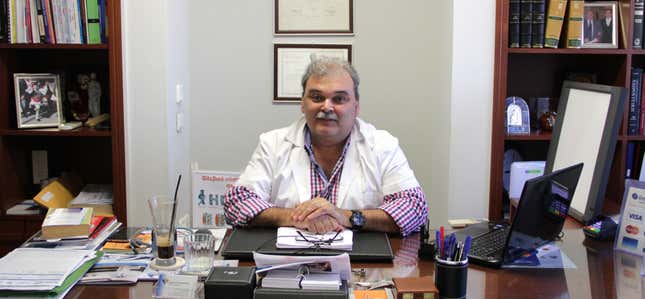 Although some belong to churches and towns, most are autonomous and politically motivated.  Vaveloua's clinic has been organized under a leftist, anti-fascist disobedience movement. It has chosen to not formally register with the state. "It's an obligation of the Greek state, over any new laws, to take care of all people, independently of whether they have papers," she said—and indeed, Article 21 of the constitution says so (pdf). "We refuse to ask a state that doesn't recognize that law to legalize us."
Volunteers do much of their work in-house—that means check-ups, dental work, vaccines—but if there's something more complex, they match patients with one of over 200 doctors in the area willing to donate their time. They've also created a network with over 500 pharmacies in the city, which collect non-expired medications from customers who would otherwise throw them out. This gives the clinic access to most of the medication they need.
In turn, much of what the clinic does is officially illegal.
When they receive medical material they can't use in their clinic, they donate it to hospitals through the back door—despite public hospitals' strain for resources, this is not allowed. Also, public doctors who help the clinic's patients with more than just a simple checkup are also technically violating the law.
Public and private
The Hippokration General Hospital was all dark hallways drenched in heat. Light burst in sparsely. Between buildings, a cat stretched in the sun. Upstairs, a man sat in a waiting area, one hand on the stand that held his IV drip, the other holding his cigarette. This is the public option.
"This is a system that has always had problems," said Alexandros Garyfallos, a rheumatologist at Hippokration and head of the medical school at the Aristotelion University of Thessaloniki.  "The public care system was completely overhauled in 1985 in same manner that every Greek thing is created: a little from here, a little from there. Many of our problems didn't happen because of the crisis. They are problems that the crisis exaggerated."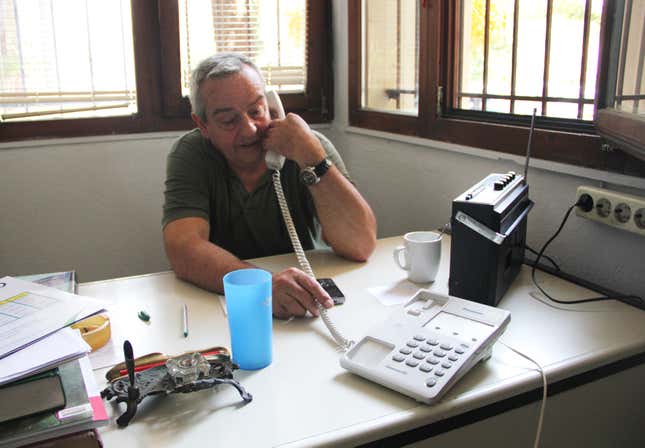 Meanwhile, the benefits of paying yourself are reflected in the offices of Prodromos Isaakidis, a surgeon for a private hospital in the nearby city of Veria, and president of the region's medical society. They are cleaner, more comfortable, less strained. Advanced technology is more often available in places like these; for example, Thessaloniki's only robotic machine for laboroscopic surgery is owned by a private hospital.
Greece's private sector is quite big; larger per capita than most European countries. About a quarter of the hospitals and clinics in Greece are private, despite their high out-of-pocket expense. But now many people just can't afford Isaakidis's services anymore. "Everything is nosediving," he said. "Especially in the past few months. We have decreased our rates very much, but we also have to live. We have a lot of expenses."
And with people less able to afford private services like Isaakidis's, public hospitals are at least 40% fuller than in the past. Hippokration's emergency room visits have doubled. Emergency room first-aid is the only still form of care free for all.
Austerity measures led to a hiring freeze at public hospitals in 2011, so personnel are stretched and overworked. Themis Nikolaidis, a 60-year-old senior neurologist, looks exhausted, distracted, and sad—a common sight. His salary has been cut from €4,000 to €1,800 ($1,958) per month. This equates to a senior neurologist making $24,000 per year. And when it comes to the additional income they depend on from shifts on call, forget it—they haven't been paid that in months.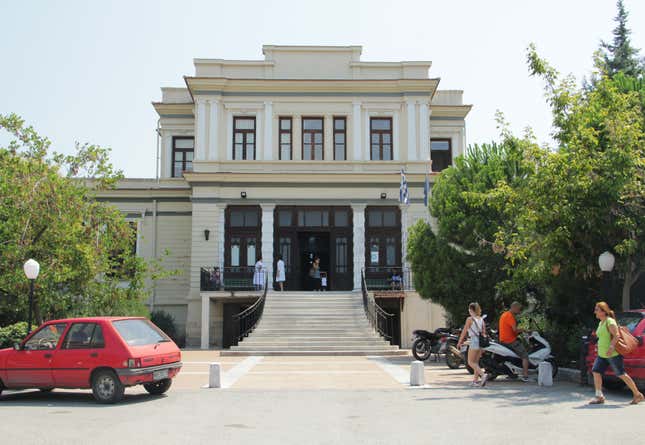 But still, Nikolaidis does what he can from Hippokration for Vaveloua's clinic. Simple examinations are easy, but bigger medical needs provide roadblocks. "If someone needs a CT scan, sometimes they send people to me, and I can find a way to do it—as a favor to someone," he said. "But I can't do many things, because I can't force other departments to help."
The future stability of public and private hospitals is still unclear, but the clinics filling the void don't seem to be in danger. "Because the solidarity movement had so rapidly spread all over Greece, and the services it offers are so huge, nobody dares," Vaveloua said. "It's not easy for them to stop us."