Lanzhou lamian is a tasty soup with beef and hand-pulled noodles served across China. It's so popular that, over the years, it's evolved into a kind of unofficial brand—and now a fight is under way to control the name.
About five years ago the government of Lanzhou, the capital of the Gansu province in northwest China, began to seek control over who could use the name. That spelled trouble for Hualong Hui Autonomous County, located in the neighboring Qinghai province and inhabited by the Hui, a predominantly Muslim ethnic minority.
In the 1980s, Hualong pivoted from making illegal guns to serving Lanzhou lamian. It was an unusual move, with the county government providing financial incentives for residents to open eateries, starting locally and spreading outward.
But it worked. Today more than a tenth of China's 100,000-plus Lanzhou lamian restaurants are owned by Hui from Hualong, according to state-run China National Radio (link in Chinese). This year the government will make about $3.2 million (link in Chinese) in related loans. In the year's first half, some $66 million of the county's $90 million in service-related income was generated by Lanzhou lamian businesses, according to the county's official website (link in Chinese).
Authorities in Lanzhou, eager to promote their city, took note of the initiative's success. In 2010 the city government created the official brand "Lanzhou Beef Lamian" and licensed its use to a catering company called Eastern Palace, which opened branches in Lanzhou in the same year. It began to expand its business nationwide about three years ago, and now it has over 400 branches.
The restaurants feature yellow signboards, spacious dining halls, and uniformed waiters and cooks. They also serve "real" Lanzhou beef lamian, which, many consumers are now learning, differs significantly from the version made by the Hualong Hui and others.
Aside from the many seasonings it uses, "the soup of authentic Lanzhou lamian is stewed with beef bones and chicken bones," one blogger explained on Weibo. "Basically, no soup will be left if you eat it in Lanzhou, but the soup of non-local Lanzhou lamian is blended with beef tallow and pepper."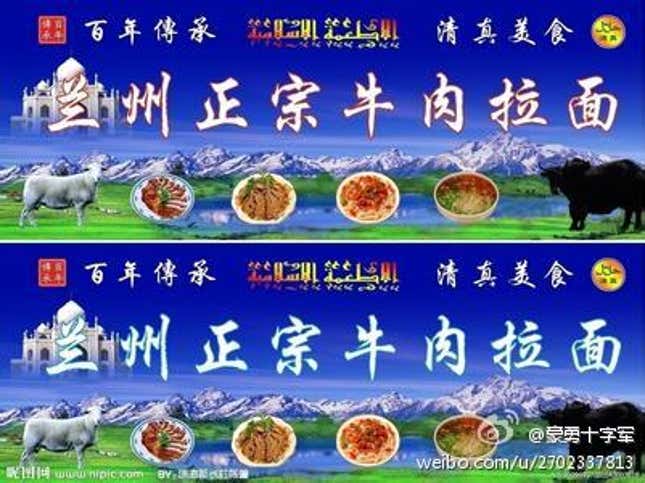 Inevitably, as business boomed for Eastern Palace, some of its outlets drew ire from established eateries. Such was the case with an outlet recently opened in Shenzhen.
According to China National Radio (link in Chinese), Hualong Hui who owned competing Lanzhou lamian diners sent people to block the new restaurant's entrance, and only desisted after extracting "protection money."
Pictures posted on Sina Weibo, a social media platform, show dozens of men from the Hui minority—wearing their signature white, rounded caps— standing at the door of the new restaurant and carrying signs protesting the undermining of "ethnic unity," and the disruption of Lanzhou lamian "regulations."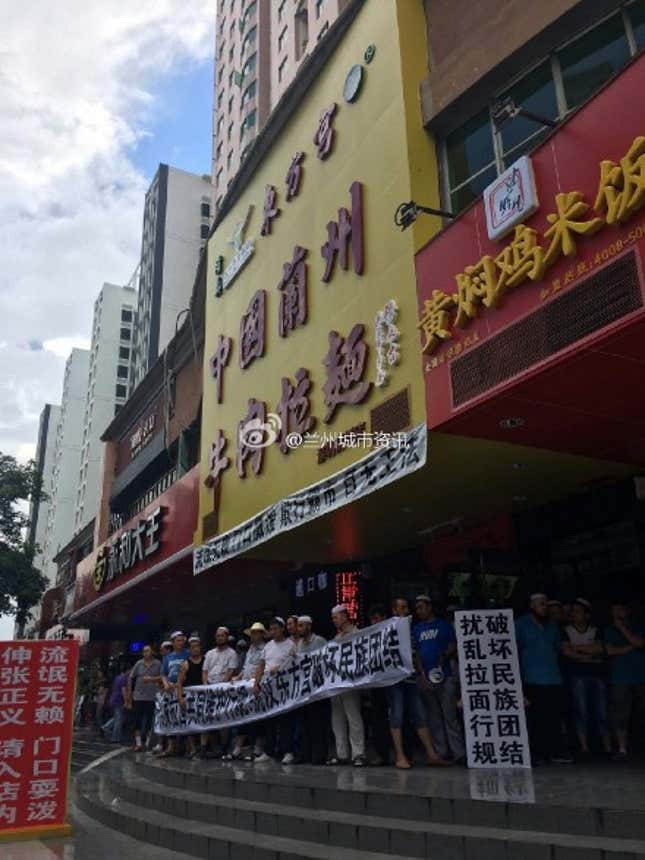 Another sign, apparently set up by the restaurant owner, read: "Hooligans are bullying customers at our entrance. To uphold justice, please come in."
Commenting on the Hualong Hui protestors, one blogger asked (link in Chinese), "Why don't they call it Hualong Lamian? Will they have so many customers if they change their name?"