This article originally appeared on Poets and Quants.
The Mission District of San Francisco is a microcosm of dichotomies. The city's oldest neighborhood, it was first home to the Ohlone tribe, then Spanish missionaries, European immigrants, Latino immigrants and now startups. Homelessness, drugs and prostitutes exist next to tiny bars overrun by hipster techies with bank accounts bigger than their horn-rimmed glasses. Grunge collides with brick buildings that were once factories and are now converted apartments and office space. It's a true visual of a gentrification war.
In an old furniture manufacturing building with aged hardwood floors exists budding fin-tech startup, Earnest. Founded by Harvard MBA Louis Beryl, 34, and finance vet Benjamin Hutchinson, 36, in 2013 and launched in March of 2014, Earnest hopes to be the next company to disrupt the student loan market, a business that has already seen Stanford and Wharton MBA startups establish a lead in the field with SoFi and CommonBond, respectively.
Undaunted by the existing competition, Earnest is growing fast with significant financial resources behind it. Beryl and company have already raised $32 million in two rounds of venture backing—their latest Series A round, which closed at the end of January garnered $17 million and a flurry of media attention. Alan Cooper, head of communications at Earnest, explains the growth and the struggles that come with it during a stroll to nearby Blue Bottle Coffee (of course) to grab a micro-roasted cup of joe.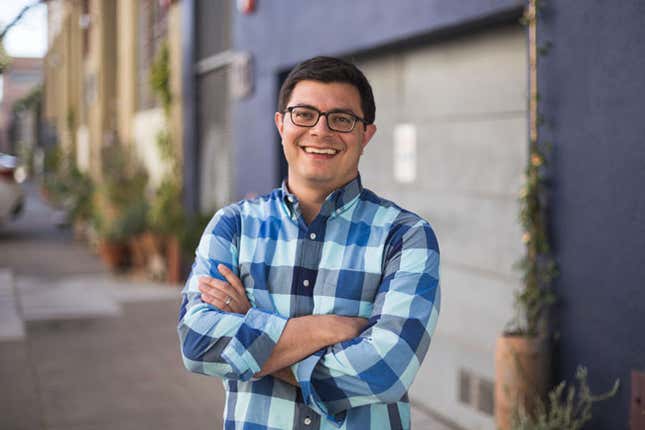 The Bay Area startup scene has become a magnet for interning MBA students this summer
He talks about how the company has grown from 30 employees at the end of 2014 to 83 now and how it's nearly impossible to nail down new office space large enough in a sweltering Mission real estate market. Median commercial and residential rent in the Mission has been soaring, even above the outlandish city averages.
Right now, they have three separate spaces as they frantically search for one central location. The current space is typical of a Bay Area-based startup—a couple of large rooms with some couches and many Apple-littered desks. Cooper kindly asks a couple of twentysomethings with MacBooks to scram from the couches to make room for a meeting and the purpose of Poets&Quants' visit—to get to know the seven MBA interns Earnest has hired for the summer.
The interns come from a Who's Who of the business school elite—Harvard, Wharton, Booth, and nearby Stanford all for the same broad purpose—to learn more about fin-tech and what it's like to work at a Bay Area startup. The geography and culture of the area is in itself enough for them to get the gist of the scene. The office sits next door to Lyft and down the street from Mission Cliffs—an indoor rock climbing and workout gym where fixed-gear bikes are crammed into an overflowing set of bike racks.
Nearly two-thirds of Harvard first years expressed interest in spending the summer at a startup
The interns are your typical twentysomething and thirtysomething MBA students from top business schools: bright, diverse, and clean cut (except for the occasional hipster five-o'clock shadow, of course). They largely wear Bonobos or J. Crew business casual. There is interest and respect for one another, and the only sign of school rivalry happens when Gideon Silverman, a Stanford student boasts that "Stanford is the greatest incubator in the world" and venture backing behind Stanford startups would be "one of the largest economies in the world."
Saagar Kulkarni, a Harvard MBA, was quick to defend his school's entrepreneurial prowess, as was Megan Terraforte from Wharton. All of the interns either come from the East Coast or another country and largely have traditional professional backgrounds. They've worked for McKinsey, Bain, Google, Salesforce, New York Life, and JP Morgan. And they are part of a growing trend of MBAs seeking summer internships at early stage ventures.
"Interest in interning at a startup is definitely increasing," says Kristen Fitzpatrick, managing director of career and professional development at Harvard Business School. "I would say it's more of a 10-year phenomena that continues to increase."
This summer, Fitzpatrick predicted the majority of Harvard first-years could be at startups, based on a Harvard survey that's received a 67% response rate so far. "We are still in the process of gathering this summer's data but about 600 out of 900 MBAs expressed interest to be at a startup this summer," she says.
At Wharton, job postings from startups have gone from 130 three years ago to 400 in the past year. That two-thirds of Harvard's first-year class are eying startups over such sure-things as McKinsey, Bain, BCG, Goldman, Morgan Stanley, Google, Amazon, Procter & Gamble and General Electric is nothing less than an ambitious bet on the future. Summer internships at those blue chip companies are virtually required to get a full-time job offer. Looking askance at those opportunities is to limit one's options at graduation. The fact that this sea change in MBA desires is occurring speaks to the confidence of forthcoming graduates in the economy and the job market but also to changing ideas of what bright, young professionals want out of the world of work.
Seeking passion, impact and experience in the startup world 
Increasingly, this generation wants to see meaningful impact in their early careers. They want quicker access to the c-suite. They want to learn in new and uncomfortable settings. They want to be part of something bigger than themselves. And a small, early-stage startup can appease all of those desires. But above all, they want to absorb as much as they can about every aspect of running a business, often in the hopes of someday doing their own startups.
"Overall MBA students are seeing the entire span of their two years as a learning opportunity and many of them see the internship as another portion of that learning opportunity," says Clare Leinweber, managing director of Wharton Entrepreneurship. "Some are getting startup experience in an industry they might enter. Others are working in early stage venture development and are building something valuable for the company and can see those results."
Fitzpatrick views it the same way. "A lot of students are thinking about experimenting and doing something quite different with their summers," she says. "More than 80% of students here want to switch for the summer. The opportunity to jump in and roll up their sleeves is really attractive."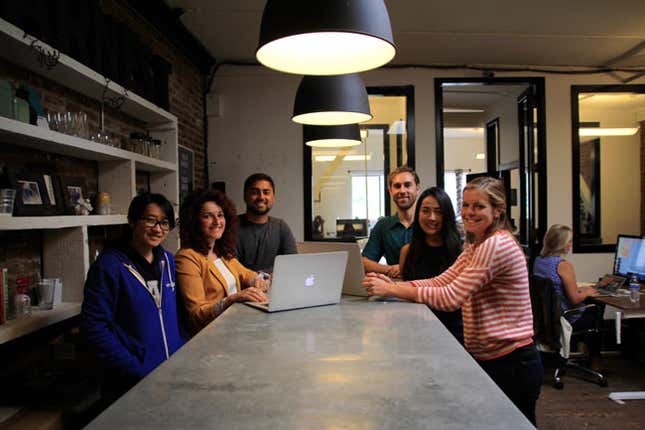 The draw of the early stage venture
And that is where Earnest and the interns meet. Eva Wei, 27, a Wharton student, worked for JP Morgan before pursuing her MBA and is now in a marketing role for Earnest. Kulkarni, 26, who is working in the "office of the CEO" at Earnest, had done a stint at Bain & Company. Silverman, 30, who is working in capital markets for Earnest, had been at McKinsey. Terraforte, 28, who is busy developing partnerships for Earnest, was at New York Life, and Harvard Business School's Sabina Robinov, 30, who is doing risk assessment for Earnest, has a resume stamped by Intel and Google.
The combination of hands-on work from the get-go and a more dynamic work environment in the heart of the Bay Area start-up scene should have many mainstream MBA employers knowing that they are increasingly competing with early-stage startups for top talent. Terraforte, who has spent her young career in a hyper-professional and traditional work environment, says there has been "implicit trust" from the very beginning of the interns completing projects.
One example of the trust she gave was being able to dip into her personal and business school networks to secure partnerships for Earnest. "My boss trusts me to pitch my friends and personal network," she says. "That trust from day one is a huge value to me and unique to Earnest, I think." She says the casual dress and acceptance of showing up to work "after 7:59 a.m." are also huge pluses. Meanwhile, some of her classmates spending the summer with traditional companies are "flying every night" and "at work all the time."
"A bummer that she has no use for her business suits this summer"
Cathy Hsu, 31, an MBA student from the University of Chicago's Booth School who worked at Salesforce, says that while it's a bummer she has no use for her business suits, she's enjoyed the job autonomy that comes with an early-stage startup, while her "Bain friends" have spent the summer with very structured and defined tasks. Robinov says getting to work with passionate and young entrepreneurs has been attractive. "If someone who looks over 35 walks in, you know they are an investor," she says drawing belly laughs from her fellow interns. "Most of the people my roommates are working with this summer are old—except the interns."
We checked, and it turns out Earnest does have at least one employee "around 50." Passion and personality is largely what attracted each intern to Earnest. Beryl's accessibility and openness is what many of them cited as the initial draw. On Terraforte's second day of work, she was wondering who the guy was wasting time going around and asking everyone individually what they did for the weekend. She soon learned that guy was the company's co-founder and CEO.
An idea hatched from a need
Beryl's fervor and his boundless energy are incredibly contagious and engaging—even on a 30-minute phone call. Those qualities, coupled with a personal experience, are what led to Earnest. Despite graduating from Princeton and working for Morgan Stanley, when it came time for Beryl to pursue and pay for his Harvard MBA, he couldn't find anyone other than himself to foot the bill—his savings weren't large enough to pay for the degree out of pocket.
"I thought I was living financially responsibly," Beryl says. "I had a 401k going, I was paying bills on time, had good jobs, a good education and was going to grad school at Harvard. But I still needed private student loans to pay for that education. School was expensive, and I didn't want to liquidate all of my 401k."
Despite good credit and savings, Beryl needed his mom to co-sign his student loans. The problem was, his mom ran a non-profit. Her social capital was high, but her monetary capital wasn't. "We refinanced my mom's house, and she lent me that money," Beryl says. "I paid her back each month and I still continue to pay her back. The massive problem was, as a borrower, I was low risk, but the lenders viewed me as high risk."
Big data meets students loans 
So Beryl and Hutchinson came up with an innovative way to evaluate the borrower—they used big data. Earnest uses an algorithm and 80,000 to 100,000 data points to lend money to students with little to no credit history. Earnest reevaluates creditworthiness but also takes into account digital bank statements, credit card history, and work pay stubs.
"We wanted to look at how we can use better software and all of the data we have and get to the heart of true riskiness," Beryl explains. "What we look for is measurements of responsibility. Is your cash flow positive? Are you living within your means? Are you not accumulating a lot of credit card debt and paying bills on time? Are you not over-drafting your bank account?"
While Earnest's competitors such as CommonBond and SoFi began their businesses with a focus on top business schools, Earnest will fund or refinance nearly anything that is considered education from elite MBAs to accredited undergraduate schools and most recently, coding bootcamps. Another differentiating feature is Earnest services the loans instead of using a third-party provider.
The lure of the startup: Not free lunches or ping pong tables, but a culture that embraces change
But for the interns, what makes Earnest special isn't just "next generation" banking techniques—it's being a critical part of a culture that embraces change and impact. "It's not about ping pong tables and free lunches," Beryl insists. "It's about truly making the world a better place and delivering value, and internally, for people being truly fulfilled with their work and doing their best work everyday and making value."
Terraforte concurs. "I wanted to make an impact and add real value and at a startup you don't have an option not to do that," she says. "Earnest trusts their employees and it has a much better culture and work-life. I've spoken with a few of my friends from Wharton this summer, and I think I like my internship better than them."
Robinov, who is originally from Israel and experienced her own failed startup there, wanted a Harvard MBA and an entrepreneurial experience to gain deeper insight into American startups. "One of the things I learned is, I like the culture and the work/life balance," Robinov explains. "People are working very hard but they take the time to celebrate when a milestone is met."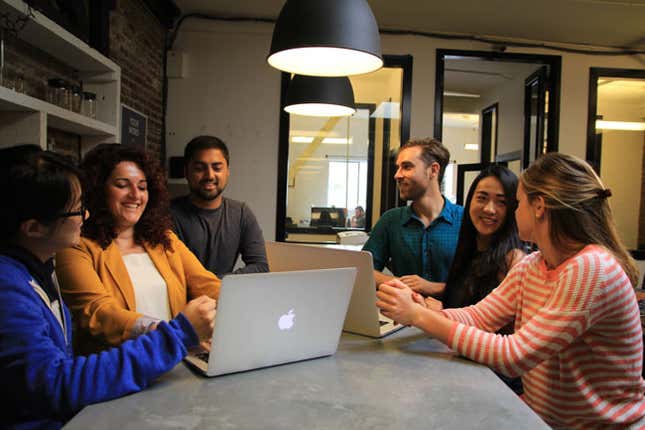 "I'm at the epicenter of financial innovation building relationships with people from all over the world"
Entrepreneurship flows through Silverman's veins. The Aussie comes from generations of ventures going back to his paternal great-great grandfather who started a fishing operation that's still running in South Africa. For him growing up, business "was the daily language" of his life. Stanford and Silicon Valley seemed like a natural fit. "I'm at the epicenter of financial innovation," Silverman says excitedly. "I'm building relationships with people from all around the world." Silverman says one of the biggest disconnects between the perception of startups and his experience at Earnest is the illusion of an unstructured work environment.
Working at Earnest is not even remotely like working in the chaos and frenzy of HBO's popular Silicon Valley show. "From the CEO down to the interns, everyone in the organization is making sure they commit to a level of seriousness and commitment to detail," Silverman believes. "You might think startups are unstructured, but they are absolutely structured."
Certainly there is little reason for the Goliaths of business to fear losing out on all top talent. After all, there will always be intelligent and driven people—particularly those with huge student loans—seeking careers in established and traditional settings and companies. Still, at minimum, this influx of interest is altering the way career services departments are spending time and resources at top business schools.
B-school career management offices responding to trend 
Fitzpatrick says recruiting by startups for Harvard students is year-round. Her office has made efforts to get small startups on campus as well as providing opportunities for students to travel to startup-rich Bay Area. "A lot of them (small startups) don't have the budgeting and recruiting that larger companies have so we make it easier and free for the organization to come on campus," she says.
According to Fitzpatrick, career management staff at Harvard will do everything from extensive internet research—often using SpotRocket—to exhausting alumni lists to make connections for students with startups. After identifying a few target companies, Fitzpatrick says her staff trains students to more effectively pitch the value of having an MBA candidate as a summer intern. Wharton also is doing a lot to connect MBAs with small startups.
"Unlike other schools, we have a specific model with dedicated individuals to startups in terms of relationships and placements," says Michelle Hopping, director of employer services at Wharton's Career Management Center. "The dedicated team has been great. From a philosophical standpoint, we meet the startups where they're at. Huge companies have different numbers for recruiting MBAs than a startup might. We make it so there are no hoops for them to jump through."
"Not all startups are at a point where they see much need for MBAs"
Hopping says her office has recently created marketing collateral and cheat sheets with info about what MBA students can do for early stage startups. "Not all startups are at a point where they see much need for MBAs or they are not built on people coming from that background," Hopping explains. "We are really working at helping the West Coast startup understand what they can get from a Wharton student."
According to Hopping, they have had success by communicating the collective and impressive professional background of Wharton MBA students. "They (startups) value the work experience students come in with," she says. Still, according to Beryl, career management offices could be doing more.
"If I were dean of HBS for this one project—nothing else, just this one project over the career services office, I would start creating long-term metrics of success," Beryl says. "The real goal should be how many people are in the same job two years in as when they started. If your metric of success is job placement and average income, you are incentivized to funnel students into investment banks and consulting firms."
Regardless, Hopping sees students coming back from startup internships with distinct results. "It's individual for each student but there are some broad things I'm hearing," she says. "One of the words we always hear from students before and after is impact. The ability for a student to feel they are making a tangible impact so when they come out of it they can look back and say they accomplished the goal.
The second thing is passion. When you think about working at a large financial service firm, there's a huge difference in being able to channel passion. They are also getting exposure into what it's really like at an early stage venture and for better or for worse, learning what it takes."