Google—or the many products and services now under the holding company Alphabet—provides the connecting tissue between US forces and Kurdish militias fighting against ISIL in war-torn Syria.
New York Times reporter Rukmini Callimachi writes from the battlefield that fighters are using Android-powered Samsung tablets and Google Earth to track their battle lines and coordinate close air support with the US military:
"Our comrades can see the enemy moving at the GPS address I just sent you," [a Kurdish fighter] wrote in Arabic to a handler hundreds of miles away in a United States military operations room. Then he waited for the American warplanes to scream in. The strike that ensued soon after blasted a crater at exactly the coordinates provided by the Kurdish fighter. It left a circle of bodies, including one of an Islamic State fighter who died slumped over his AK-47.
The Times account of the conflict in Syria is focused on the political challenges of the US alliance with Kurdish fighters whose separatist political agenda has earned them the enmity of other regional players, including Turkey, itself a key factor in the fight against the fanatical Islamist organization.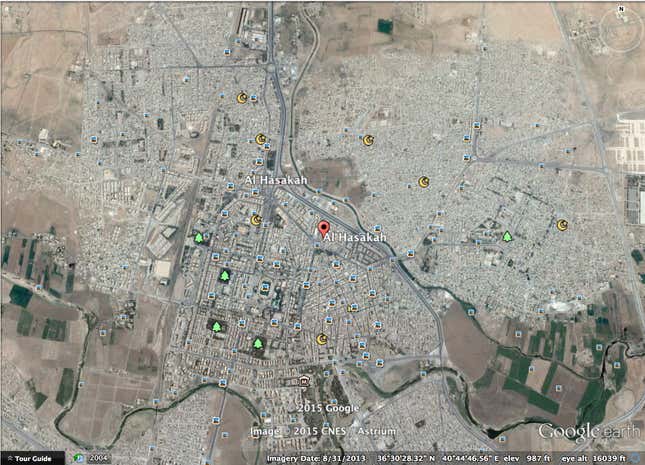 But the deployment of free-to-use software developed by the American computing giant shows the changing ways of modern war. In the past, US companies contributing to the war effort would publicize their patriotic efforts and act in traditional spheres of armaments production. Today, consumer software is powerful and cheap enough to be turned to war-fighting, and Google did not respond to a request for comment about this use of its software.
"While we aren't going to provide specifics about our intelligence gathering and targeting process, in some cases, the anti-ISIL fighters in northern Syria provide information to the Coalition about the locations of ISIL positions," a Defense Department spokesperson told Quartz in an e-mail. "Using an established system that incorporates Intelligence, Surveillance and Reconnaissance [ISR] platforms and other assets"—military jargon that includes everything from drones and satellites to manned aircraft and spies—"we are able to use that information to facilitate Coalition airstrikes and minimize risk to civilians. This has been successful in countering ISIL, leading to their defeat in Kobani, their defeat at Tel Abyad, and forcing their retreat from several previously occupied areas."
Anyone who has relied on Google's map products to drive cross-country or find friends in a park may be surprised to find the software being deployed for life and death matters—at one point, Callimachi reports that US military coordinators sent a map to Kurdish fighters with a yellow circle marked out, instructing them to take refuge there while the US bombed nearby ISIL targets.
Ironically, one reason for this reliance on Google's map database is that US military satellite maps are considered too sensitive to be shared with allied fighters from non-NATO countries, an obstacle characteristic of the troubled US efforts to back local militias. US soldiers reportedly resorted to Google Earth to help fill that gap, and one defense contractor has developed an app called iSpatial that relies on Google's maps' API to provide information to the US soldiers and diplomats.
Use of Google Earth is also likely to mean a smaller footprint for US forces on the ground. Conducting air strikes near ground troops is a delicate military operation for obvious reasons, and in the past, might have required US forward observers on the ground to pick targets or to train fighters to do so. But with a globally popular operating system and app like those developed by Google, the Kurds can now just send the GPS coordinates to the cloud, then watch the hot metal rain down.