You can bet on continued rapid growth in the smartphone market. But ongoing unbridled profitability for its biggest players such as Apple and Samsung? That's less of a sure thing.
Korea's Samsung last week reported a 76% increase in net profit year-on-year. But its forecast that "the furious growth spurt seen in the global smartphone market last year is expected to be pacified by intensifying price competition, compounded by a slew of new products" disappointed investors eager to continue bingeing on smartphone and tablet euphoria.
Shares of Apple, largely driven by its iPhone business these days, have fallen 36% from their peak at $703.99 per share in mid-September. And the company's quarterly earnings call on Jan. 23 didn't inspire faith that the company could continue its market dominance indefinitely.
This does not mean that the world is full of smartphones—or even cell phones. Sales of phones and penetration rates are increasing in countries around the world, although the rate at which sales are increasing in some of the early-adopter markets is slowing. In October, Strategy Analytics estimated that one billion cell phones were in use; it expects there will be two billion smartphones in use by 2015. Investors' doubts are predicated on the idea that these companies and others won't be able to live off the smaller margins generated by low-cost handsets.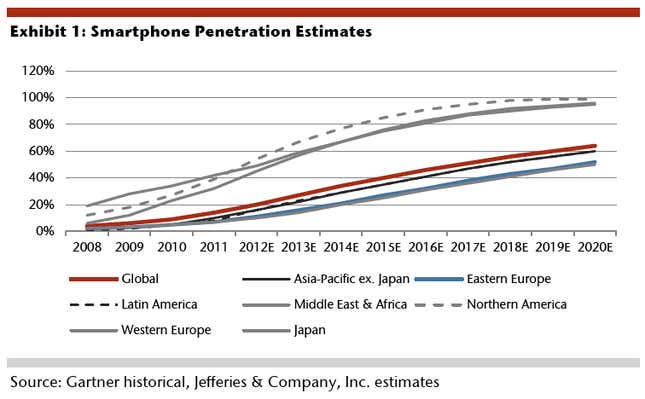 Valor of volume
Concerns about Apple have had a lot to do with declining margins, as high-end sales growth slows amid increased competition from the likes of Samsung and less urgency among consumers to upgrade to the latest models when their current smartphones are more than adequate. Apple has typically been the industry leader, pioneering new technology. It has not—to date—said it would make a cheaper iPhone, though that is expected and Apple already carries its old models at a discount. Samsung has swiftly expanded its market share in the last few years by offering a variety of options for consumers. It has even had success expanding into already crowded emerging markets; Samsung has spent billions of dollars on marketing campaigns and drawn in consumers at all price points.
The problem is that both companies have trouble capitalizing on mid- and low-cost cell phones. Because it builds almost all of the parts that go into any cell phone, Samsung is better positioned to make money on the difference between the cost of the phone's manufacture and the cost the consumer pays for it. Apple so far has made the decision not to compete aggressively in the lower-end market.
But simply because there's not as much profit in low-cost phones doesn't mean there's no profit; so long as there are some profit margins in selling to a new world of consumers, someone will do it. RIM's BlackBerry is starting to focus on African consumers, Nokia has made a bet on Indian consumers, and a variety of other companies are competing heavily for a piece of the pie. Little-known manufacturers in China and Asia making extremely low-cost devices that run Google's Android software will surely grab a slice of the low-end market.
Exchange rates
Although Samsung appears to be winning the volume game, it may be at a disadvantage in the near future, creating an opening for other players. The Korean won has been rising in value in relation to many other currencies. With loads of foreign currency flying into the growing South Korean economy, the won is becoming more expensive, even as the world's major central banks duke it out in a race to devalue their currencies. For example, the won rose nearly 20% against the Japanese yen in 2012. But exchange rates are even more important in emerging markets, where the company is pressured to chop costs to the bare minimum in order to make their phones competitive; the won has risen against emerging market currencies, particularly the Indian rupee and, to a much lesser extent, the Chinese yuan. Robert Yi, the head of Samsung's investor relations, explained the impact currency fluctuations had on the company last quarter:
Our fourth quarter earning operating profit was negatively impacted by the foreign currency exchange ratios of about KRW360 billion ($33 million) from the continued strong Korean won, which we expect to continue for the time being. To clarify a little bit further, the most of the impact came not from the US or euro in Q4, but from various local currencies, including Chinese yen, Brazil real and others.
This could turn out to be a bigger deal in the future, as Samsung expects that these conditions will continue through 2013. Indeed, sharp appreciation in the currency against the yuan could allow for the rise of Chinese companies Huawei and ZTE, the third- and fifth-largest smartphone vendors in the world at 4.9% and 4.3% of global market share, respectively. Admittedly, their market share does not yet compare with the likes of Apple and Samsung—which have 21.3% and 29% of the market. Japan's Sony could also benefit from a depreciating yen—the currency's current trajectory.
Then again, the exchange rate game is one of chance. The Bank of Japan has so far disappointed those expecting it to embark on dramatic new monetary easing measures right away, while the Bank of Korea has already been hinting that it might cut rates. Meanwhile, an Apple incursion into the mid- and low-priced smartphone market could disrupt the game, and a cheap dollar might be there to help.
Clearly, there are wars ahead in the cell phone world, as manufacturers duke it out on price points and volume. What's clear is that smartphone penetration is on an upward trajectory, and someone will be around to make a buck from that—even if it brings lower profit margins.