This post has been corrected.
Star Wars fans, get excited.
Disney confirmed that it will build two huge, intensely immersive Star Wars-themed lands, one at Disneyland in Anaheim, California, and the other at Walt Disney World Resort in Orlando, Florida. The parks—each covering 14 acres—will let visitors walk through fully realized worlds, where they can interact with characters, such as humanoids and droids, fly the Millennium Falcon, have a drink at the cantina, and experience a major battle.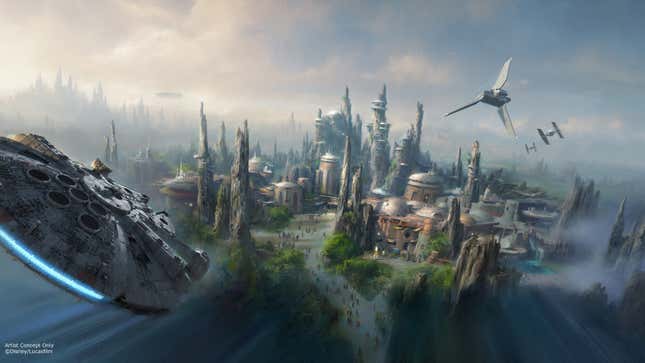 "We are creating a jaw-dropping new world that represents our largest single-themed land expansion ever," Bob Iger, Disney's CEO, said in the announcement at the D23 Expo yesterday (Aug. 15), where Harrison Ford, aka Han Solo, also made a surprise appearance. "These new lands at Disneyland and Walt Disney World will transport guests to a whole new Star Wars planet, including an epic Star Wars adventure that puts you in the middle of a climactic battle between the First Order and the Resistance."
Iger didn't lay out an exact timetable for the parks, but separate Star Wars attractions will begin appearing in Disney's existing parks later this year, around the time of the release of Star Wars: The Force Awakens. In early 2016, for instance, guests will be able to ride Hyperspace Mountain, a play on the Space Mountain ride reimagined as an X-wing Starfighter in battle.
Meanwhile, at Disney's Hollywood Studios, weekend nights will erupt with fireworks set to John Williams's famed score for Star Wars.
The parks are sure to be a massive attraction, complete with massive lines. But for fans who've been waiting nearly 40 years to take a ride in the Millennium Falcon, the wait shouldn't feel long at all.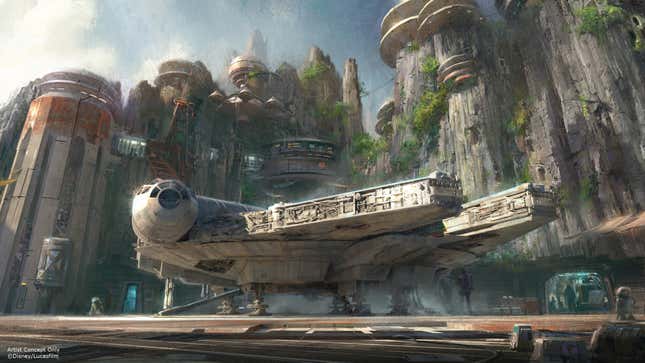 Correction: A previous version of this post said the Star Wars movie due out at the end of this year was Star Wars: Rogue One. This year's release is Star Wars: The Force Awakens, while Star Wars: Rogue One is due next year.