Updated: Aug. 18, 11:30am Bangkok time 
An explosion at a major religious shrine at the center of Bangkok's shopping district has killed at least 22 people (including eight foreigners) and injured more than 120, shattering the peace in a country that has seen little political violence since a military coup last year.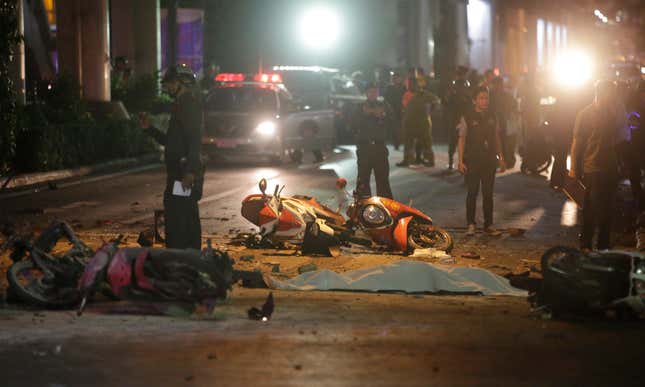 The explosion, at approximately 7pm local time on Aug. 17, was caused by a bomb at the Erawan shrine, which features a Thai representation of the Hindu god Brahma but is also visited by many Buddhists, officials told local media. The shrine is at the center of Bangkok's busy Ratchaprasong shopping district, which features more than a dozen luxury malls.
This security camera footage appears to show the explosion, though its provenance has not been confirmed:
And here is footage from a car's dash camera:
The BBC's Jonathan Head reported from the scene there was "a huge amount of chaos with body parts scattered everywhere and a crater that does indicate a bomb attack."
The bombing, if confirmed, would be a dramatic escalation from the small-scale explosions that have taken place before and after the military coup, which have been blamed on so-called "ping-pong bombs" that contain a small amount of explosive.
Richard Barrow, a local journalist, also reported on Twitter that a second unexploded bomb has been found at the Gaysorn shopping center, directly across from the Erawan shrine.
The Erawan shrine has been the site of violence in the past. A Thai man vandalized the statue with a hammer in 2006 and was then beaten to death by an angry crowd.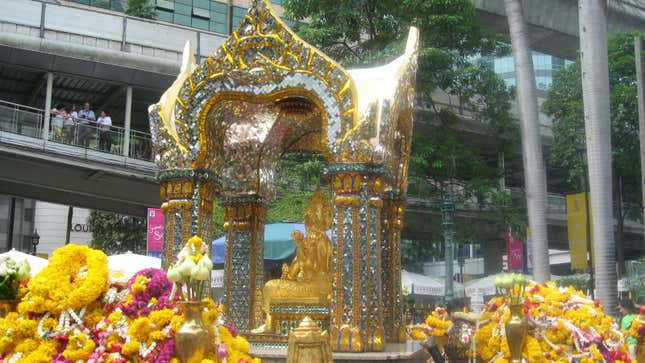 This is a breaking news story that will be updated with new information as it becomes available.