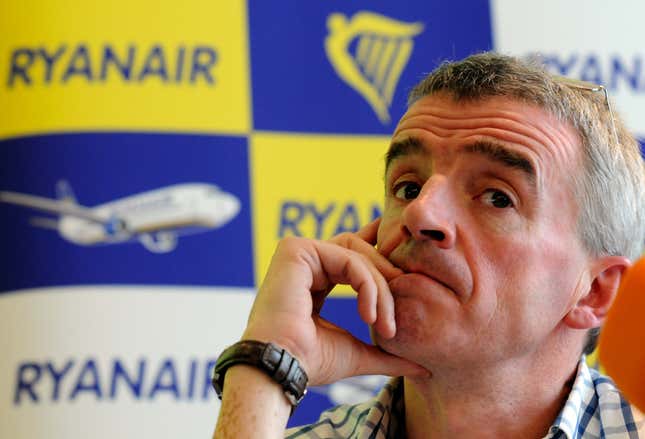 Ryanair reported better-than-expected results today, a 21% increase (pdf) in third-quarter profits after tax. The Irish airline, which is Europe's largest discount airline by number of passengers, is now predicting full-year profits of €540 million ($725 million), up from a previous estimate of €490-€520 million.
That's a sharp contrast with the plight of most European airlines, which struggle under spending cuts and higher fuel costs. Iberia, the Spanish unit of International Consolidated Airlines Group (IAG), Air Berlin, Lufthansa and Air France-KLM, are all undergoing restructuring via downsizing or capacity cutting. SpanAir, Spain's fourth largest airline, collapsed last January. "These trends will create more growth opportunities for Ryanair to grow profitably to 120m passengers over the next decade," Ryanair's statement says.
Discount airlines in Europe are enjoying a boost from an economic downturn in Europe as more businesses ask their employees to travel cheaply. (Average fares on Ryanair are about €50). EasyJet, Ryanair's top discount rival, said on Jan. 24 that its first quarter revenues had risen 9.2% (pdf) from a year earlier, with traffic increasing 6.2% to 13.7 million passengers, ahead of its slated entrance into the FTSE 100 index. Michael Cawley, Ryanair's deputy chief executive, said demand for its service in the UK, Germany, Scandinavia, Ireland, and Eastern Europe in its third quarter were all "much stronger than expected."
But while Ryanair trumpets itself as Europe's no. 1 low-cost airline, it is making money from gradually jacking up its prices: It raised fares by 8% in the last quarter. The carrier is the subject of hate blogs and was recently voted the least favorite short-haul airline in Europe by readers of Which?, a British consumer magazine. Ryanair is known for making money off its passengers via unexpected fees like printing out one's boarding pass at the airport or ordering a cup of tea on board. (Michael O'Leary, the famously pugnacious CEO, has also considered charging passengers to use the bathroom.) If Europe's other discount and non-discount airlines don't keep up, the airline will have more room to increase prices, as well as institute some of O'Leary's more outlandish ideas.
Authorities fear a takeover of European markets by Ryanair. According to the company, it now accounts for 12% of the region's short-haul air travel market. This summer, the company launched its third attempt to buy its rival Aer Lingus for €694 million, a deal the Irish government opposes for fear it would create a monopoly on flights in Ireland. (Aer Lingus has spent €50 million fighting off Ryanair's attempts.) The European Commission, which rejected Ryanair's earlier bid on these grounds, is considering the company's proposal to offload more than a third of Aer Lingus routes.