Caterpillar reported profit of $1.91 per share for the fourth quarter of 2012, exceeding estimates of $1.70. However, that's only if you don't count the $580 million writedown of an investment into a fraudulent Chinese company, which dragged profit down by $0.87 per share, to $1.04. Meanwhile, revenues and adjusted profit were better than analyst estimates.
The financial media is spinning it both ways, with some reporting earnings as "surpassing estimates," while others are broadcasting a "55% drop in quarterly profit."
The "earnings surprise" angle pegs Caterpillar's estimate-beating performance to the US housing recovery and emerging-market infrastructure investment. The market may agree: Pre-market trading had the stock up more than 2%.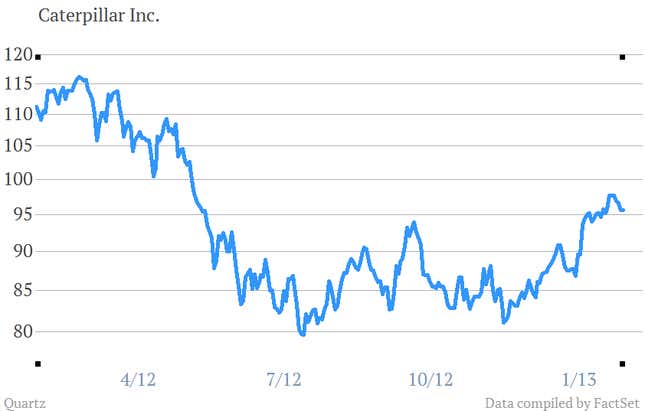 The dimmer view appears to have less to do with consensus estimates than with Caterpillar's 2011 performance, which yielded $2.32 a share. In addition to the writedown, the company also attributed the year-on-year profit decline to slumping sales, lower production, and a $2 billion decline in inventory. Fourth-quarter sales decreased in all regions except Latin America, with the biggest sales decrease in North America, said the company. Meanwhile, sales slumps in China offset gains in Australia in Japan. This was mainly due to slowing construction; that segment saw a 25% drop in sales.
These trends didn't appear to have weighed heavily on the company's overall 2012 performance: Profit per share was $8.48, an increase of 15% from 2011. However, its dismal Q4 numbers could signal slower growth into 2013. Indeed, CEO Doug Oberhelman said the lower production levels would continue through the first quarter of 2013, due to slack customer demand.
"We expect the first half of 2013 will be weaker than the first half of 2012, with better growth in the second half," Oberhelman said. "However, if, like the last two years, growth and confidence decline in the second half, 2013 could be a tough year. Either way, as we demonstrated with inventory reductions in the fourth quarter, our team is prepared to execute and deliver."
The company revealed the $580-million writedown on Jan. 18, explaining that it had found accounting irregularities at ERA Mining Machinery, which it acquired last June for $886 million.
As Ross Gjilardi, a Bank of America Merrill Lynch analyst, notes, the scandal may have broader implications than merely Caterpillar's standard of what counts as "due diligence." Via Business Insider, he says that the acquisition "does not help perception of CAT's China growth strategy, which is important to the long-term investment case, in our view."
Regardless of its M&A strategy, the company is still pegging its growth in large part on China. "Our outlook assumes the Chinese government will maintain pro-growth policies throughout 2013. We expect economic growth near 8.5 percent and a more favorable environment for construction and commodity demand," said Caterpillar's earnings release.
#economy:"@cnbc: Caterpillar CEO Oberhelman: China is recovering "for sure"; Europe is "muted": cnb.cx/110c2qP. (via @beckyquickcnbc)"

— Maritere DeLosSantos (@NOTASBURSATILES) January 28, 2013

Caterpillar's earnings release may have more pages than Goldman Sachs', checking now

— Brian Sozzi (@BrianSozzi) January 28, 2013
The $CAT is out of the bag. Caterpillar EPS beat estimates. Sales a little light. $CAT up a whisker (less than 1%) in pre-market trading.

— Paul R. La Monica (@LaMonicaBuzz) January 28, 2013

But caterpillar warns … "@breakingnews: US orders for durable goods rise 4.6% in December, sign of strength in manufacturing – @ap"

— JY (@ThatJY) January 28, 2013