While we don't have interstellar spaceships, the ability to terraform other planets, or know of any bloodthirsty aliens bent on our eradication, there may soon be one sci-fi thing we'll have from James Cameron's "Aliens:" exo-suits.
Mitsui & Co., a Japanese firm more commonly known for trading commodities, is apparently working on exoskeletons to aid manual laborers. According to Bloomberg, the company hopes to soon be able to build a mechanical suit much like the one in the 1986 movie.
In the film, the suits—called Power Loaders—were meant to help people move heavy objects, like a wearable forklift. Mitsui's suit would theoretically serve the same purpose. Mitsui plans to have its suit ready to sell in two years, according to Bloomberg.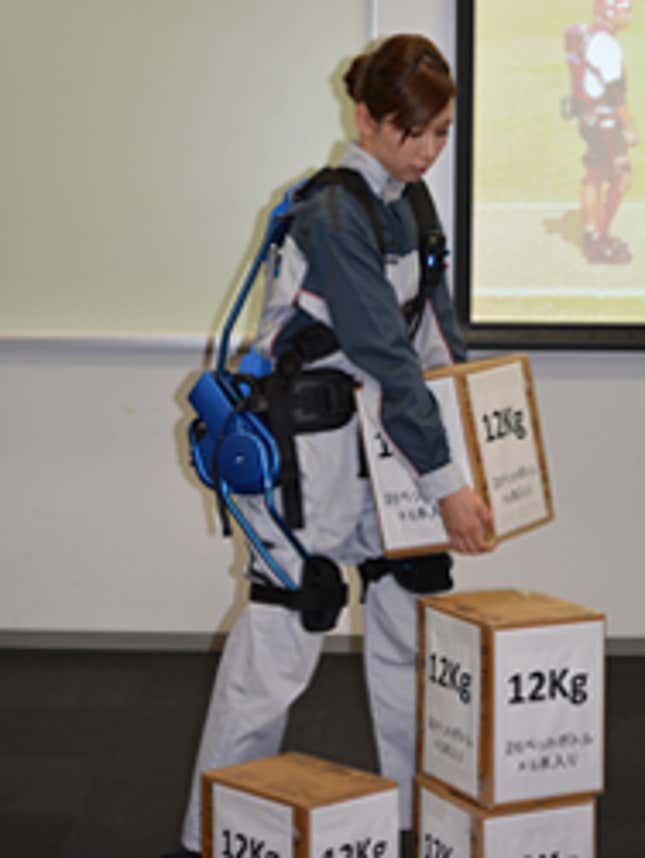 Mitsui has been working with Panasonic to create "powered exoskeletons" for a few years. In 2014, the two companies showed off how their exoskeletons can help workers carry heavy objects with ease. Bloomberg points out that this is a great solution for the aging Japanese workforce to keep people working as long as physically possible. In the above video, Mitsui shows how the suits can be used to help rickshaw drivers work more easily (though that still seems like a less effective solution than just hailing a taxi).
While a fully-fledged Power Loader-style suit probably wouldn't be much more useful than a forklift for most Japanese workplaces, it might prove super useful in case we do come across any alien species in the near future. Otherwise, the folks over at Suidobashi Heavy Industry, whose Kuratas robot will be dueling an American robot next year, might be interested. At the very least, it might be a good option for the referee.