The notion that parents drop off their kid at college with a tearful entreaty to write home has significantly changed in the age of digital communication. Research shows that college students now communicate with their parents on average more than 13 times a week, with about 40% of students contacting parents by phone, email or text every day.
As a recent college graduate myself, I can attest to this phenomenon. When I began my freshman year in 2011, my relationship with my dad became surprisingly closer. Email, already conveniently built into our professional and academic lives, became our dominant form of communication.
While this has led to some awkward am-I-your-daughter-or-your-employee? moments (he once emailed me a message intended for a congressman, with the confusingly fitting intro: "I hope things are well and you're ready to kick ass in the upcoming midterms"), his advice is always helpful and welcome as I begin to navigate the world on my own.
As the following emails—taken from the past year of my father-daughter correspondence—show, digital parenting may be a little clumsy but it is also efficient and a lot of fun. It has allowed my dad and me to overcome both the generational and the physical gap between us by continually re-defining our relationship and staying in touch.
I made it through four years of college on my own but he wanted to make sure I could handle graduation.*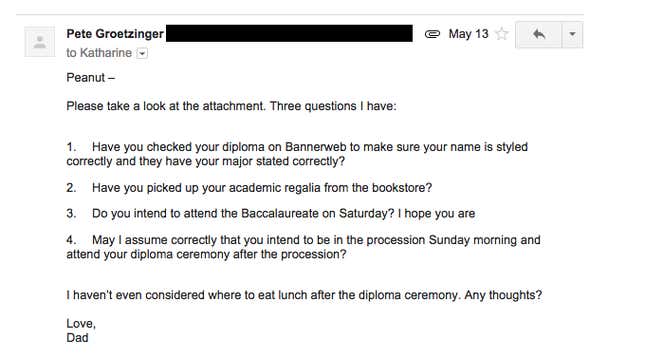 *he said three questions but it is actually four… or five.
He'll pay 1/2 my rent…on one condition.

He'll continue to closely track my spending…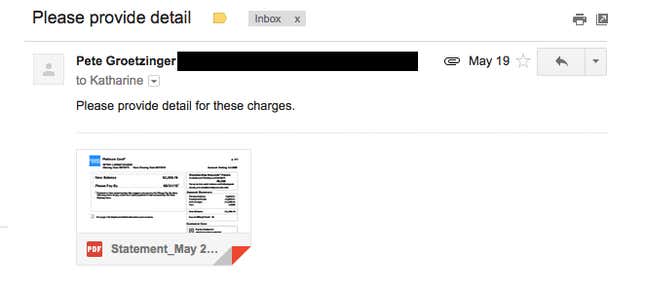 ..and be disappointed when I break the rules.

 Sometimes he asks me questions about concepts common to millennials…

And other times he has "immediate" requests.

Sometimes he shares things with me from BuzzFeed…

… and other times he draws from more academic sources.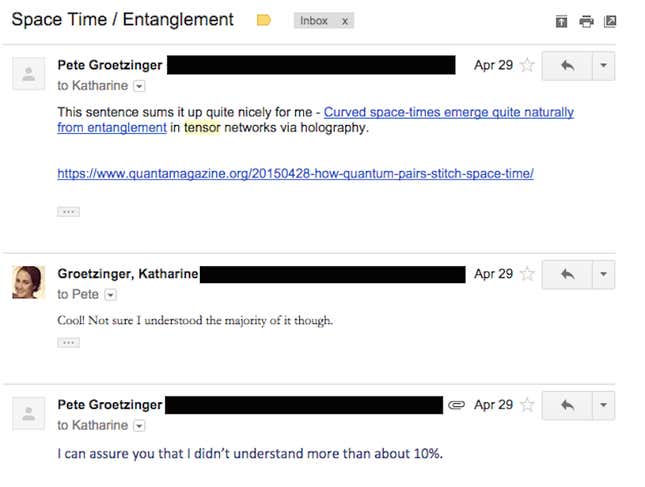 He can be an academic himself when called on, although he would deny it.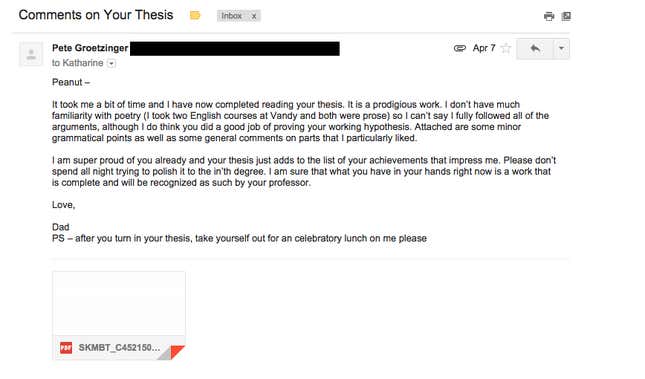 And no matter what, he'll always have my back.