A man with an AK-47 on a high-speed train between Amsterdam and Paris was subdued on Friday (Aug. 21) by three Americans on holiday. A 26-year-old man of Moroccan origin, reportedly known to French security services, was arrested at the station in the town of Arras, near the border between France and Belgium.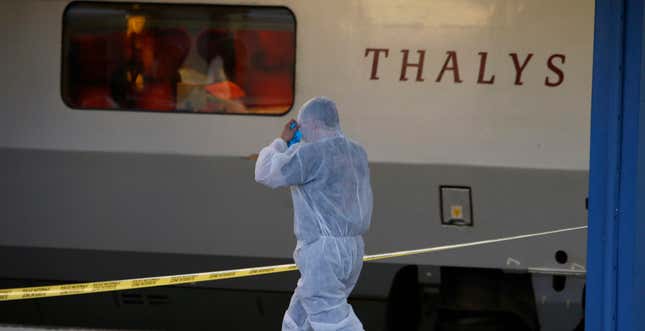 The Americans are Anthony Sadler, a student at Sacramento State University, and his friends, Spencer Stone and Alek Skarlatos, who are members of Air Force and the National Guard, respectively. Here's what we know about what happened:
The incident started around 5:45 p.m. local time in the last carriage of the TGV train (link in French). The man walked out of the toilets with a Kalashnikov, an automatic pistol, and razor blades, and started walking through the carriages, shooting. "I heard gunshots, probably two, and a guy collapsed," Cathleen Christina Coons, a New Yorker on holiday in Europe, told Le Monde. "There was blood everywhere, apparently he was hit in the neck."
"We heard a gunshot and we heard glass breaking behind us and saw a train employee sprint past us down the aisle," Sadler said, according to The Guardian. "As he was cocking it to shoot it, Alek just yells, 'Spencer, go!' and Spencer runs down the aisle. Spencer makes first contact, he tackles the guy, Alek wrestles the gun away from him."
Chris Norman, a 62-year-old British consultant who lives in France, said: "I came in at the end and I guess just helped get the guy under control at the end of it all. We ended up by tying him up, then during the process the guy actually pulled out a cutter and starting cutting Spencer. He cut Spencer behind the neck, he nearly cut his thumb off, too."
After that, Sadler said the "three of us beat him until he was unconscious." This is the aftermath of the event, according to video from another passenger (warning: there's some blood):
https://twitter.com/Meguini/status/634917255193718784?ref_src=twsrc%5Etfw
Sadler said the attacker didn't say anything while the fight was going on, but was chatty afterwards. "He was just telling us to give back his gun. 'Give me back my gun! Give me back my gun!' But we just carried on beating him up and immobilized him and that was it."
Apparently, the man's AK-47 jammed. "If that guy's weapon had been functioning properly, I don't even want to think about how it would have went," Skarlatos told Sky News. "We just did what we had to do. You either run away or fight. We chose to fight and got lucky and didn't die."
Two men are being treated in hospital in Lille. The Americans and the Brit have been given medals for bravery from the mayor of Arras. US president Barack Obama and French president Francois Hollande have also praised their bravery. "I'm just a college student," Sadler said. "I came to see my friends for my first trip to Europe and we stop a terrorist. It's kind of crazy."
France is still reeling from the attacks on Charlie Hebdo and a Jewish grocery store in January and other "lone wolf" attacks, such as in June when a man set off an explosion at a chemical plant near Lyon and then mounted his boss's severed head at the plant's entrance (paywall).