Earlier today, online restaurant booking site OpenTable announced that it is buying San Francisco startup Foodspotting, a crowd-sourced database of dishes, for $10 million.
It's an interesting match. OpenTable, which with its workaday design handles reservations and not much else, is the functional but fusty spinster sister to Foodspotting, the Instagram of food, made for those who can isolate a craving down to the very jus and photograph it just so. OpenTable has been groping for new sources of growth since 2011, when the stock hit its $32 nadir. With Q3 revenues coming in at around 16% year-on-year, OpenTable has proven its resilience, and it's now around $52. But that's still 56% off highs of a few years ago.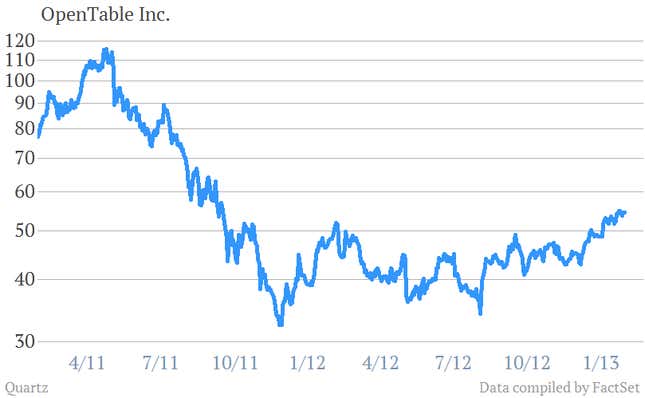 Part of its struggle to grow comes from the fact that OpenTable seems stuck in the past. Though people can recommend restaurants on it, there is no "community", that feeling of shared experiences with like-minded people that is central to so many of today's startups. No one would visit OpenTable just for fun. And that, increasingly, is a problem: As The Verge explains, the food-and-tech space is awhirl with deals that vertically integrate "food, photography and social apps." People want to show their friends what they're eating, and see what their friends are eating too.
Foodspotting's strength is that, first, it translates the amateur photography craze into a powerful research tool and referral service for people looking for a good place to eat. OpenTable needs both these things. Also, like Instagram, Foodspotting is overwhelmingly smartphone-based. (Almost all of OpenTable's reservation revenue now comes from bookings made on mobile devices).
But it's not all about pretty pictures
Still, OpenTable still faces some looming problems that Foodspotting's acquisition will do little to shrink. Since launching in 1998, it has done a solid job of signing up high-end restaurants in large cities—i.e., places for which people typically need reservations. But now that market is getting saturated. Signing up cheaper restaurants could be tougher: They have lower margins, so they'll be more reluctant to pay OpenTable, which makes its money by charging restaurants a dollar per diner.
Then there's the competition. This includes the likes of UrbanSpoon, Livebookings and Eveve, and there's a gathering thunderhead on the horizon in the form of Google's purchase of Zagat, the famed restaurant reviewer. Several of these are free, posing a challenge to OpenTable's proposition, particularly for lower-end restaurants.
But beyond simply using Foodspotting to get more bookings, OpenTable aims to help restaurants tailor dining experiences to their customers. It's in this area that it might make more money from its core market, the fancy restaurants. The Bits blog explains how:
Mr. Roberts [OpenTable's CEO] imagined a waiter carrying around a tablet loaded with the OpenTable app, which would display a patron's dining history and show his food preferences or cocktail of choice.
OpenTable currently works with nearly 19,000 North American restaurants and more than 7,000 internationally. Multiply that by the countless diners it's booked and then add the social media layer from Foodspotting to that and, well, that's  a whole lot of detailed customer information. The idea of waiters carrying around so much intelligence on your eating habits—they'll probably know more about what you've ingested than you care to remember—might seem spooky at first. But it'll probably just be one more aspect of the privacy that people who use social media seem willing to surrender in return for some slightly better choices.