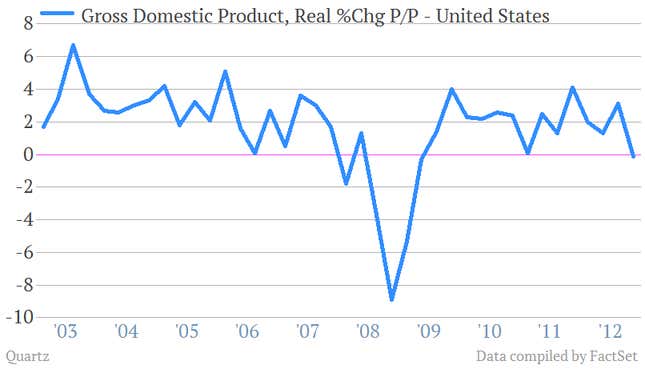 UPDATE: 9:04 AM EST
US economic growth declined for the first time since the second quarter of 2009, amid reduced government spending, lower business investment in building inventories, and weak exports. The announcement shocked traders, which had expected the economy to grow, although weakly, at a rate of 1.1%. Unsurprisingly, US stock futures tumbled immediately after the news, but in the half-hour since the announcement traders appear to be reconsidering.
There's more to this than meets the eye. The economy grew at a rate of 2.2% in 2012, better than 2011's 1.8%. Not to mention that third quarter growth was very strong: 3.1%. A 6.6% drop in government spending—and a 22.2% decline in defense spending—probably caused a significant drag on the economy, and private businesses had to step in to fill the void. We've also seen some circumstantial evidence that businesses stocked up on goods ahead of the fourth quarter, not only for a strong holiday season but in preparation for debates about the fiscal cliff—political gridlock over taxes and government spending cuts which gripped Washington around the new year. Finally, it's not clear that this number won't be revised up next month, when the Bureau of Labor Statistics has more data.
Then again, this could be the first time the US economy shrank since the end of the financial crisis in 2009—a scary thought for investors.