Disembark at Takashimadaira station in northern Tokyo, and an immense building rising out of the ground like a moored Soviet battleship blocks your field of vision. Behind it hides an entire fleet, containing 8,400 apartments in all.
"Danchi", or apartment blocks built by Japan's housing agency during the country's high-growth period, may look grim and outdated in today's Tokyo, where flashy glass and steel towers reign. But danchi are becoming hip again, thanks to modern renovations by lifestyle brand Muji, which is turning the poky, multi-room flats into open-plan studios.
The reappraisal for danchi couldn't have come at a better time: vacancy rates in Japan are soaring as depopulation accelerates, with a third of homes expected to be empty by 2033.
One reason for all those vacant houses is a slash-and-burn approach to construction fueled by postwar government policies and a cultural fetish for the new. The renovations market in DIY-shy Japan is still tiny, but Muji is one of several household names pushing to make it mainstream.
Japan's housing agency was created in 1955 in response to a severe housing shortage during a post-war baby boom while urban populations swelled. Distinct from low-income housing, danchi rents are pegged to market rates and are open to anyone, with a low hurdle to entry: they are free of the extortionate extra costs usually demanded in Japan, such as a month's rent each for deposit, key money, agency commission, a guarantor, and a renewal fee when the contract is up.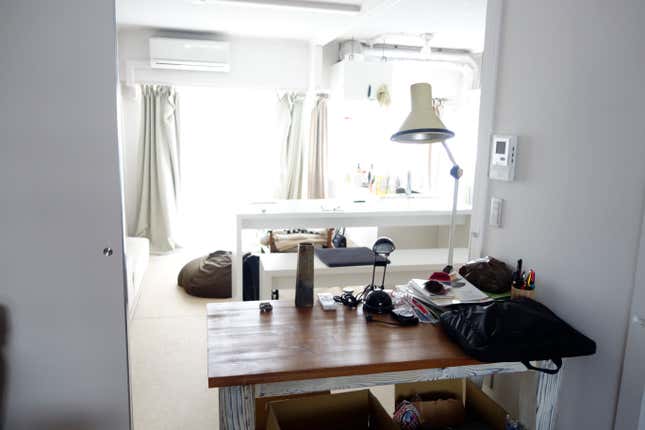 The agency rebranded as the Urban Renaissance (UR) Agency in 2004 and is now focusing on improving the quality of the 760,000 housing units it now runs, rather than increasing their number. The problem is that many of the apartments are emptying out and the remaining residents are ageing.
Muji hopes to solve that problem. Japan's most famous interiors export is targeting young singletons and couples by ripping down walls, painting everything white and putting in new kitchens and bathrooms that embody its aesthetic of simple and utilitarian minimalism.
Eighty percent of those who applied to live in the first round of Muji-refinished apartments in 2013 were in their 20s and 30s, double the normal ratio for UR apartments. In Takashimadaira, there were 7.1 applications for every free apartment.
Muji and UR's collaboration makes sense, given their shared commitment to making good design available to the masses, Julian Worrall, a professor of architecture and urban design at the University of Adelaide, told Quartz.
"Muji is a fantastic example of both of being thoroughly Japanese but also completely imbibing the spirit of Bauhaus: marrying beauty and industry and affordability, that democratic aspect," he says.
Although Muji ripped out walls and dividers where possible, the company left as many of the original materials in the apartments as possible, such as wooden doorframes and dappled glass window panes, to add a little retro flavor. Tatami was swapped out for hemp mats with a veneer that makes them smooth underfoot.
Hirohiko Urata, a 30-something who moved into one of the apartments in Takashimadaira renovated by Muji, says the apartment is better designed and more comfortable than privately built apartments in Tokyo of the same size—and a steal at around $300 cheaper per month.
"It doesn't feel like we're all crammed into this massive block; in fact it feels more spacious and open than where I lived before on the ground floor of a detached two-storey. My friends are really interested in the space and many come over because it's easier to relax here—it's bigger (46.7sqm) and more spacious apartment than their places," said Urata to Quartz. He says he has also started cooking more than before thanks to the large open kitchen.
"But I didn't think the block would actually be this big. It's the biggest I've ever seen… I was really shocked when I first saw it from the outside. It was like, eek!" he added, gulping for effect.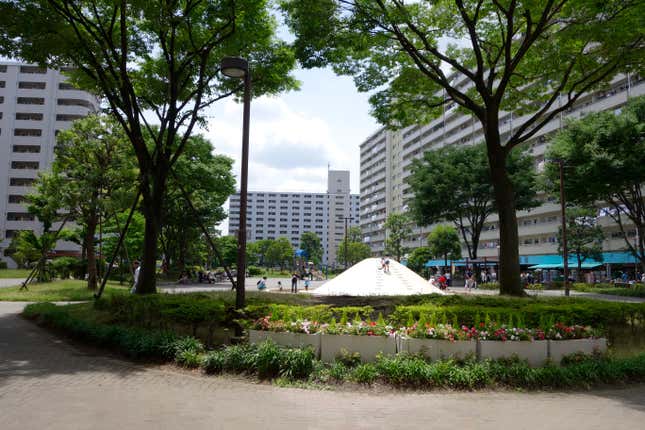 The spacious feel is due to the clever, economical design of danchi: the blocks are always south-facing, with opposite-facing windows providing good natural light and cross-ventilation; surrounding buildings are set way back so that even ground floor apartments get four hours of sunlight in the winter; communal gardens, greenery and parks are laid out between them; and heating costs are lower as there are few exterior walls. All of these things are a luxury in Japan's cramped urban centres, where developers tend to squash as many units and wardrobe-sized bedrooms in as possible.
"(Danchi are) brilliant. They shouldn't be: we talk at architectural school about how these concrete boxes should be hell," said William Galloway, the director of architectural studio Front Office Tokyo and a professor at Keio University, to Quartz. Galloway himself used to live in the Takashimadaira complex.
"But they're all oriented so the units are facing south and it's really shallow. The plan was a grid but it was built on concrete. The cupboard space ran like a spine, and we had so much storage it was amazing. We had communal gardens. It's the complete opposite to how buildings are built now."
Muji has renovated 24 out of the 8,400 apartments in Takashimadaira, and 220 around the country. Although the company has so far targeted danchi with low vacancy rates in order to test appetite for the new decor, it is now rolling out renovations in areas struggling to attract residents, particularly young ones.
Kouji Kawachi, director of Muji's dwelling space operations division, told Quartz that houses in Japan lose their value primarily because they no longer fit people's lifestyles, not because people don't like "retro" looking apartments.
Muji brochures explain that the post-war division of houses into living room, dining room, kitchen and bedrooms is no longer suitable for the way people live now, and demonstrate an evangelical fervour for open-plan layouts and "zero infill", or no dividing walls.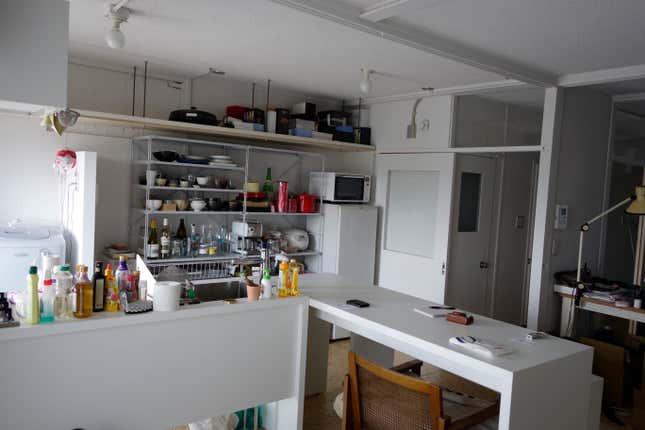 "We're kind of a pain in the neck as a company, because we would probably try to convince customers that it's better not to have any walls no matter what they say," Kawachi told Quartz, laughing.
Open-plan layouts are a big departure from the standard format for modern Japanese housing, including danchi, which are usually marketed on how many rooms they have.
But renovating rather than rebuilding marks an even bigger shift in mentality: the post-war baby boomers, who measured happiness by the consumer goods they were able to afford, fetishize newness and disdain second-hand goods, including homes. Only 13.5% of homes sold have been previously owned, compared to 77.6% in the United States and 88.8% in the U.K. according to Japan's Ministry of Land, Infrastructure and Transport, which found in a 2012 survey that one in three Japanese people feel "psychologically averse" to living in a pre-owned home.
Urata, on the other hand, represents Japan's so-called "satori sedai", or "enlightened generation", thus called because of their comparative lack of desire for worldly goods.
"I didn't particularly want to live in a newly built house, or an apartment room renovated to look brand new. I wanted to be able to make some choices about the space, and I feel that when you move into a brand new place it can only deteriorate from there," Urata said.
Blogs and social media accounts devoted to "danchi-moe" or "danchi love" in praise of their industrial chic began popping up in the wake of the 2008 financial crisis, spawning TV shows featuring impressive and drastic renovations that have upped their value.
That, in a country where the average value of a home drops to zero after just 15 years and is demolished after 30, is quite some feat.