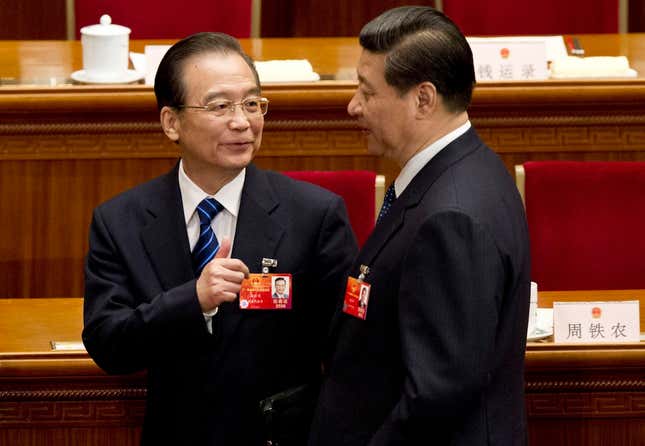 The New York Times has said that it has been infiltrated by Chinese hackers for the last four months.
The attacks were presumably related to the Times' report last October that the family of outgoing Chinese premier Wen Jiabao had amassed billions of dollars of hidden wealth. The newspaper said the hackers, using techniques previously associated with the Chinese military, had broken into the email account of David Barboza, the reporter who wrote the Wen Jiabao story. That said, the paper found no evidence emails or files associated with the story had been copied or downloaded.
Chinese cybercrime has been increasing rapidly. According to security consultants Akamai, a third of all cybercrime now originates from China. And the share of attacks that come from China more than doubled in the third quarter of last year compared with the previous three months.
China's cybercriminals allegedly target a wide range of American corporations and government departments. Last September, the US Cyber Command's former top intelligence officer, Rear Admiral Samuel Cox, said Chinese hackers' "level of effort against the Department of Defense is constant," while attempted theft of corporate trade secrets was also on the rise.
In its annual report, released late last year, the US Economic and Security Review Commission accused the Chinese government of sponsoring cybercrime. The report claimed (pdf, p.9) that "several entities within China's intelligence and security services…have a cyber espionage mandate." It added that "nominally independent groups likely engage in state-sponsored exploitation, and certain corporate actors, such as Chinese information technology or telecommunications firms, may also operate in cyberspace on the state's behalf."
The report added (p.149) that China's military, the People's Liberation Army, was boosting its cyber-espionage skills by building "into its exercises situations involving the use of cyber attacks."
Bloomberg News was also targeted by Chinese hackers last year after publishing a report about the wealth accumulated by relatives of China's incoming president, Xi Jinping. A Bloomberg spokesman told the Sydney Morning Herald that "no computer systems or computers were compromised."