Across the US people are flocking to public libraries to get their hands on Harper Lee's Go Set a Watchman and Paula Hawkins' novel The Girl on the Train. Those books are the most popular at nine of the 15 city libraries that provided Quartz with their recent circulation rankings for adult books. Both are New York Times Best Sellers.
The time period for the checkout lists varied by library, but all were each library's most recent figures. Some libraries provided Quartz with lists for July, others for August, and some provided lists that spanned multiple recent months. Because Go Set a Watchman was released on July 15, its popularity could be underrepresented by some libraries' lists.
Watchman was popular enough to be a top 10 most popular book at nine of the libraries. The Girl on the Train was checked out enough to make 11 top 10 lists.
Some books' popularity is driven by library initiatives. For instance, the San Francisco Public Library's "On the Same Page" program encouraged its patrons to read Fairyland by Alysia Abbott, shooting it to the top of its most popular book list.
Other books' popularity appears to be driven by Hollywood. Los Angeles' most popular book—perhaps stereotypically—is The Fault in Our Stars by John Green, a 2012 novel that was recently turned into a film. San Jose's 2nd most popular book recently was Gone Girl, the novel that spawned the Golden Globe-nominated film. (A film adaptation of The Girl on the Train is currently in development by Dreamworks.)
If we exclude Go Set a Watchman and The Girl on the Train, a different bibliophile landscape emerges across the US, shown in the map below: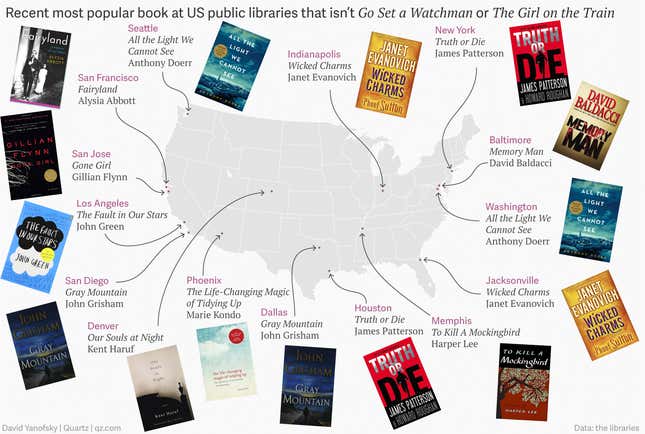 Where Seattle's most popular adult book was Watchman and Washington DC's The Girl, both cities' next most popular book was the Pulitzer Prize-winning All the Light We Cannot See by Anthony Doerr.
The number of times a book can be checked out is, of course, limited by the inventory of the library, the speed at which local patrons complete and return books, and the efficiency of library staff in recirculating the title.
The public libraries of Austin, Boston, Charlotte, Chicago, Detroit, Nashville, and San Antonio did not provide Quartz with rankings prior to publication.