Censorship and humor aren't known for being compatible, but social media in China is often full of bawdy humor, cutting satire, and goofy jokes.
The meme below is a case in point. It shows global leaders using a fictional chat group—"friends of China"—inspired by WeChat's group chat function, to discuss whether they should attend China's military parade that took place today (Sep. 3). As Quartz has reported earlier, many of the leaders in the group opted not to show up.
The image appears to be watermarked with the Weibo user @ladybobo, suggesting this user uploaded it to the social network, but her profile page appears to have been inactive for some years. Nevertheless, it is typical of the japes that get shared on Weibo and—more commonly nowadays—WeChat.
The original, full image is viewable by clicking here, and a Quartz translation follows: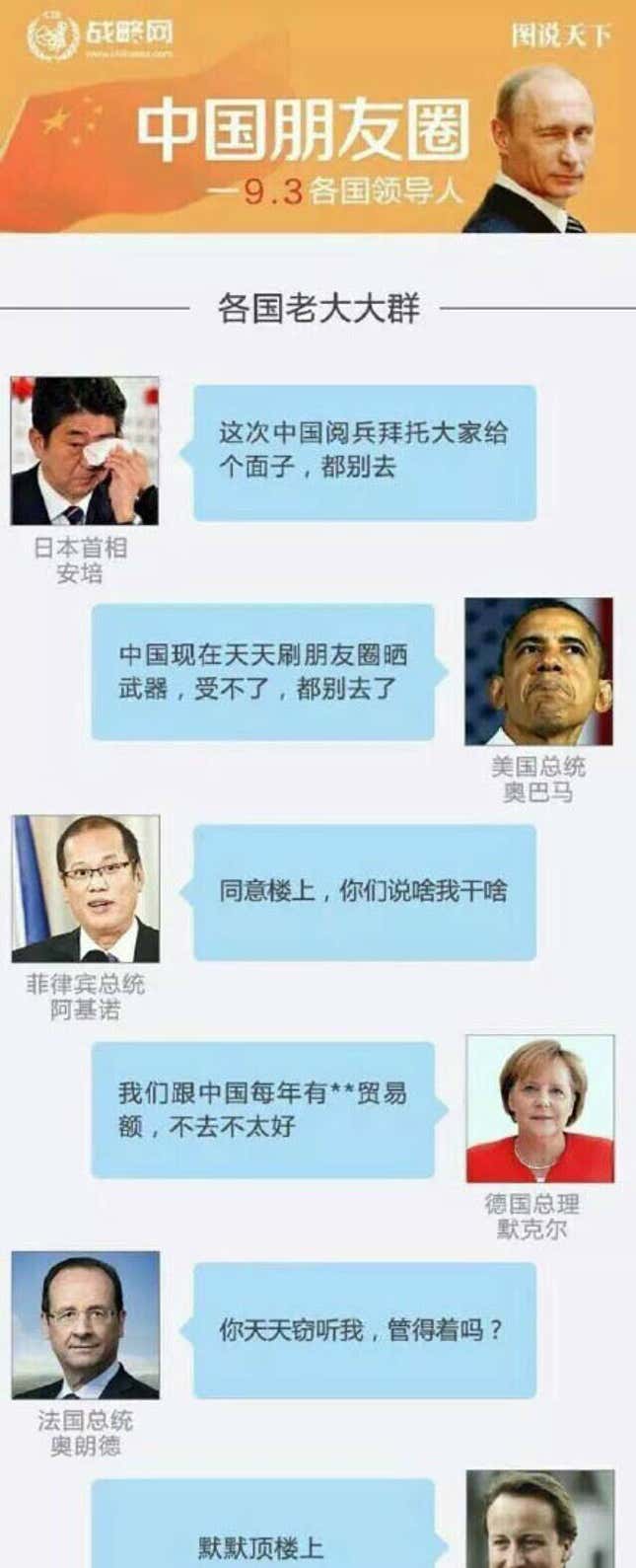 Shinzo Abe (Japan): Guys, please don't go to China's parade this time. Give me some face.
Barack Obama (US): China showcases its weaponry on WeChat Moments everyday, I can't stand it. Guys, don't go.
Benigno Aquino (Philippines): I agree with the above. I'll do whatever you guys say.
Angela Merkel (Germany): China and Germany do so much annual trade, it wouldn't be good for me not to show up.
Françoise Hollande (France): [To Obama] You eavesdrop on me every day. It's none of your business!
David Cameron (UK): I discreetly approve of the above.
Jacob Zuma (South Africa): I want to go.
Abdel Fattah el-Sisi (Egypt): I also want to go.
Obama: Putin will go, and he's been training. Can someone [please] fight him?
Merkel: [Responding to Obama] I'm just a woman, I shouldn't mingle with men's issues.
Hollande: [Responding to Obama] I just reimbursed Putin over billion dollars [for a canceled warship contract]: Just looking at him makes me mad.
Cameron: [Responding to Obama] I'm a gentleman… y'know.
Ban Ki-moon (UN): I shouldn't dismiss such an important historical moment.
Miloš Zeman (Czech Republic): I agree with Ban.
Putin: Some countries have attempted to falsify the history of World War Two, which is intolerable… @Obama let's not fight, I'll treat you to some Peking duck.
Park Geun-hye (South Korea): The misery of history shall never be forgotten, we must be wary of the resurgence and spread of militarism.
Mamnoon Hussain (Pakistan): China's our big bro, I have to go. No explanation necessary.
Thein Sein (Myanmar): [To Abe] Do you pay me more than China does?
Abe: Humpf! Then I won't be sending you any more Japanese porn.
System notice: Abe and Aquino left the group chat.
System notice: Abe joined the group chat.
Abe: @Obama big brother, why haven't you left the group?
Obama: You leave first. Big Xi will visit the US soon, I need to prepare the house.
System notice: Ban removed Abe from the group chat.